Doctor of Teleocity
Ad Free Member
Joined

Dec 2, 2003
Posts

18,090
Age

47
Location
Well, it's safe to assume that every major star, sans of couple, who were only child, has a brother or sister or two. And it's also safe to assume that those said siblings tend to go "Why, if they can achieve such fame, then so can I!"
Some pull it off by distancing themselves from their famous family, case in point, Janet Jackson
From her very first TV appearances, whenever a presenter said "She's Michael Jackson's sister." she'd correct them "No he's MY brother!" She was going to make it without riding her brother's coattails. She achieved just that by adopting a totally different sound to her music and her musical direction.
But not every Jackson sibling chose to go at it the way she did. When Michael had his monster success with the "Thriller" album, the Jacksons decided to come back together as a band and release an album called "Victory" to cash in on the success.
But one thing the brothers decided on, was that it was only fair that every single one of them should at least write and do the lead vocal on one of the tracks. Marlon did so on the song "Body"
Sounds familiar? It uses a very similar beat to MJ's "Wanna be starting something" but it lacks the MOJO of that one. Note also that in the picture, MJ is put in the back, the others looking like "Okay then, our turn Mikey!" I on purpose didn't post the music video, since it's such a train wreck.
"Victory" was a disaster and the tour to support the album saw the brothers not playing a single song from the album they were to support, instead, old Jackson Five songs and MJ's solo stuff was performed.
Okay, so Marlon Jackson's "Body" is tacky and a clear cash grab, but at least he CAN sing, which is more than could be said about another Jackson sibling.
In La Toya's defence, she sings outside her range, and it appears that the producer never had the heart to tell her "Maybe we should do this in a different key."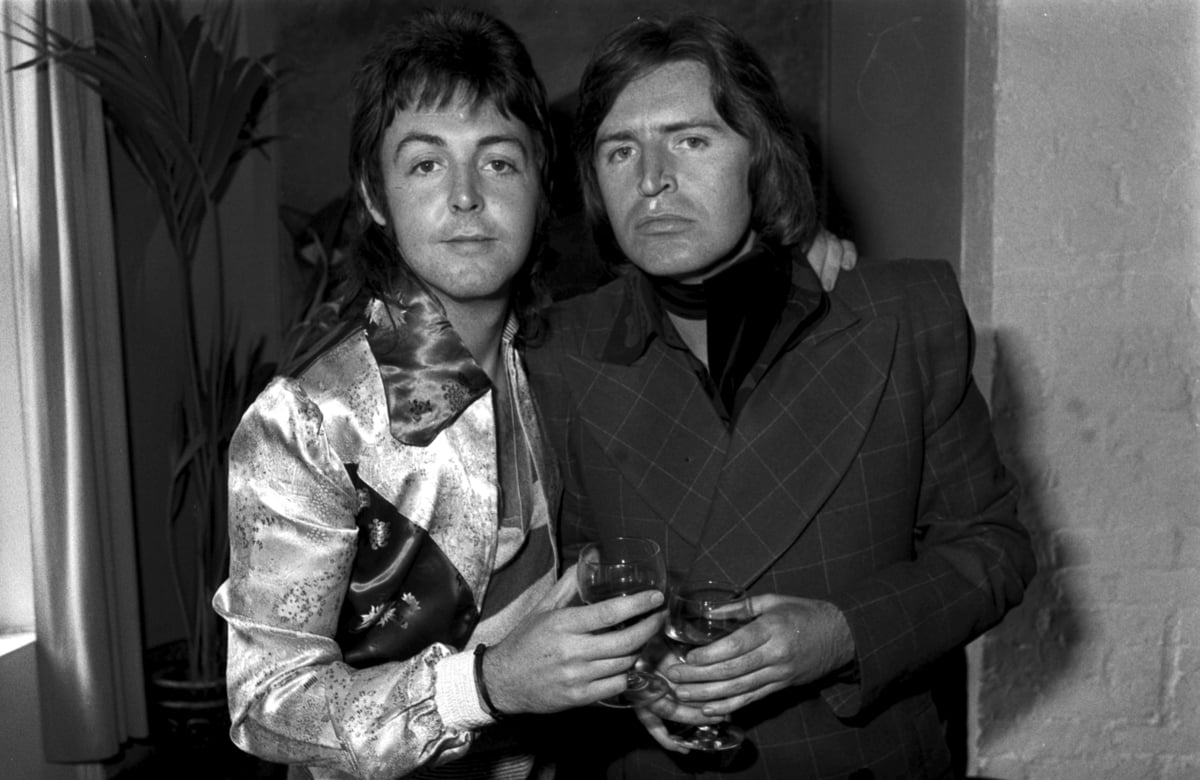 Paul and Michael McCartney. Yeah, so how do you top your bro if he's a BEATLE? In Michael's case, by adopting the name Mike McGrear and making a career out of doing novelty songs, no harm done, no coattail riding.
Mike has often been asked why he didn't want to use the "McCartney" name to his advantage, his reasoning was that he wanted to have success based on his own work, not Paul's.
And then there's Cecil Womack.
Seen here with his brother Bobby.
Yeah, you can see where this is going, look up pictures of Cecil, and you'll get more pictures of Bobby, no matter how he tried, he always was going to be "Bobby Womack's brother". I can't even tell which is which in this picture.
But it wasn't for lack of talent, Cecil and his wife Linda Cooke (Sam Cooke's daughter) managed quite well on their own merits, producing some very righteous soul music during the eighties.
Last edited: