(Duplicate posting from Tele Technical - looking for all the help I can get - thanks)
Hi all,
I am preparing to wire up a set of Vintage Noiseless pickups in my first build. I'd like to ask you all if you agree with this diagram which came with the pickups: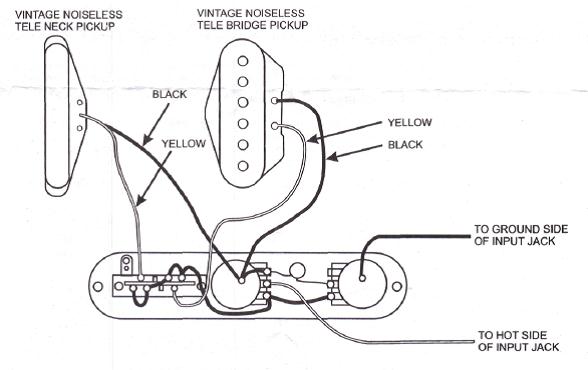 No caps came with the set, but I am assuming the cap between the two pots is a .050. Is this correct?
What about a treble bleed? It looks like none is shown. Do y'all agree with this? I wonder if they just left it out of the picture to leave the circuit to the individual's preference or if there is none intended.
Does it matter where the ground to the jack connects? Most of the diagrams I've seen show it going to all the other ground points on the volume pot. I'd rather do it this way because it'll be easier to use shielded cable that way. And I see no ground wire to the bridge - again, do they just assume this is standard?
Any advice is appreciated - I feel I ought to wire it exactly as shown but wonder at the differences metioned above.
Thanks,
Rex