Joined

Mar 16, 2014
Posts

1,900
Location
More 1590LB fun, this time with a Zendrive clone. I'll be drilling holes in the bottom of this one to get at the four trimmers more easily.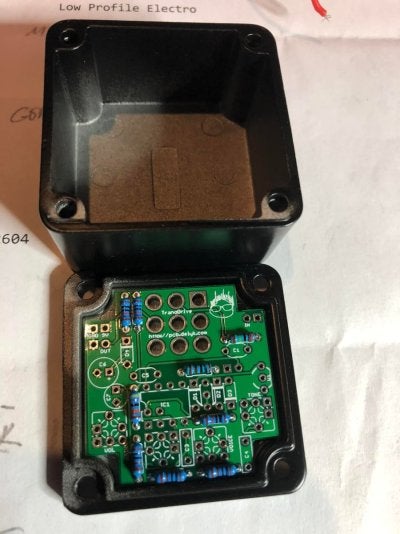 Everything is a tight fit, these LB builds aren't for the beginning builder, low parts counts aside. The low profile electrolytics needed a little persuasion to sit on the board, and a germanium diode is in no way going to fit, I tried
It seems that some Bourns 3362P type trimmers are on backorder, at least for the values I need, so I have one "R" type (reverse orientation) and a "U" (all pins in the middle of the trimmer body). I can use the U type thankfully as the PCB has included 3 across holes, albeit at one end but it should just fit.
I'm looking forward to comparing it with my Lovepedal version. These tiny pedals are cool, but if you like to adjust your controls a lot, taking the bottom off or having to have a trimmer tool in your gig bag is a bit of a hassle. If you're a set it and forget it pedal user, these might just be the thing for a true micro pedal board.