Joined

Sep 24, 2010
Posts

1,334
Location
I had finished this one last year (actually two) but did not put them together. I had sprayed too heavy a coat on the neck and it needed to be stripped and re-sprayed. But I ran out of motivation. So this year while I was working on my two brotherhood builds I fixed the necks. It is a J.O.B. removing 2K urethane. Since I was unhappy with the neck pickup for my brotherhood build I removed it and installed that pickup in this build. With the Seymour Duncan Whole Lot of Humbucker in the neck and a T4 JB model in the bridge this guitar has attitude. While I cannot get those sweet tones for R&B rhythm, this guitar screams Southern Rock. The SH18 WLOH is a copy of Seymour's early 70s London P.A.F. that he created by rewinding stock Gibson pickups. This build has the bolt on neck. I am completely converted to the set neck and the two bolt on ones that I am completing now will be the last I will ever make.
While this one looks like others I have made there are some differences. You cannot see it in the pictures, but I mixed just a bit of the bright red in the top coat. There is a subtle red hue over the amber center. It is more noticeable on the back which is knotty alder. The other difference is that the body is 1.6 inches thick. Because of the carve it is not noticeable but with chambering the weight comes in a 6.25 lbs. Really comfortable. As a point of reference a Gibson SG can be as thin as 1.25 inch. The effectiveness of a series parallel switch really depends on the pickups you have installed. On these hot humbuckers there is significant difference in tone in parallel and a lot of high frequency is gained.
Those of you that have built several know each guitar has its own thing. Small things get accidentally combined. This one with its light weight, heavy humbuckers, and red hue give it a fiery personality. It makes me smile. Often I am just glad its finished.
3/4 inch figured maple drop top on alder body.
One piece quarter sawn roasted maple neck with zero fret
Gotoh SG381 Guitar Tuners
Hipshot bridge
Seymour Duncan Pickups Neck is Whole lot of Humbucker, Bridge T4 JB
4 pole double throw mini switch that places both pickups in serial/parallel mode.
Simtec 2K urethane finish colored with trans tint stains/dye. black, bright red.
6.25 lbs
Cost of parts
Bridge $67
Tuners $40
Pickups $180
Lumber $70 (maple given to me)
Switches and other hardware $35
Total $427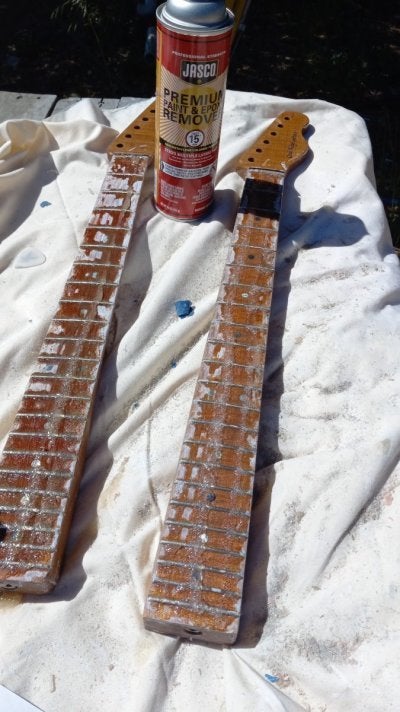 Last edited: