Joined

Mar 16, 2014
Posts

1,889
Location
Started this build today and realized I got the wrong pots for Q and Frequency, ugh. Thankfully I found a drill template, it's not going to be a blast drilling lol.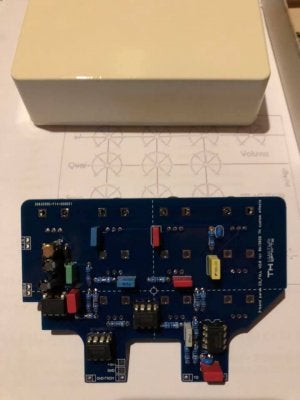 I have built a couple of TH Custom's boards including their version of the ROG Supreaux overdrive, and their mono pedal size amp, both are cool. I didn't realize it initially, but there's an SMD bridge rectifier on the opposite side of the board. I didn't have a lot of trouble soldering it like I thought I would, but it's also a lot larger than an SMD transistor.
I haven't played with a parametric EQ since I was in college and we had a rack mount Ashly in our radio station production studio, it should be fun.