Joined

Jun 28, 2003
Posts

30
Location
Hello,
I am making a DIY spring reverb and I refer to existing written material on the subject beginning with ACCUTRONICS specifications
here
:
I also read Rod Elliott's pages about spring reverbs
here
:
What I am doing in particular is sizing the input current headroom above the nominal saturation current.
Given the following impedances chart from the ACCUTRONICS site,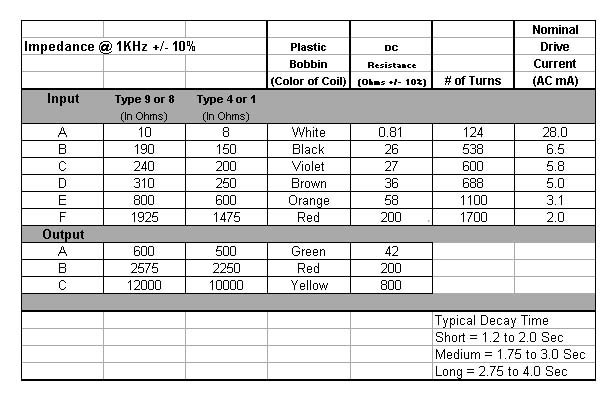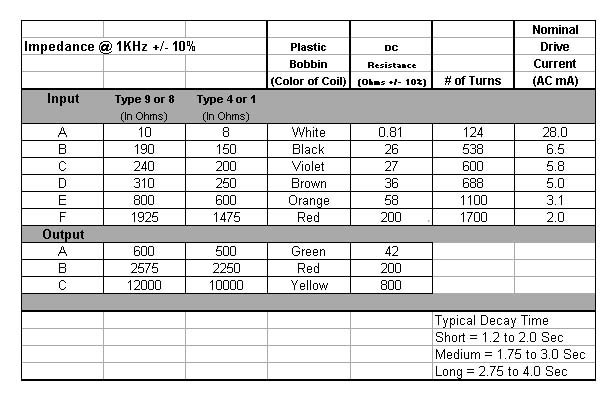 the first issue concerning a contradiction in their specs is easily solved : the second paragraph on the
ACCUTRONICS page
quotes a nominal current of 2,5 A-T (amperes per turn) whereas the diagram below ( and the text) above give 3.5 A-T. On the impedance chart we can read on the E range at the far right 1100 turns x 3.1 = 3300 mA-T end on the F range 1700 turns x 2.0 = 3400 mA-T. Obviously the truth is 3.5A-T !
In spite of the obviousness of this result the Rod Elliott's page still quotes this 2.5 A-T limit in the note 1 below his own chart here .
This would be of no point if the rest was consistent but it is not.
The ACCUTRONICS spec gives a 3.5 A-T saturation point with a headroom above it of 10dB and all this is consistent even with the writer's experiments who misinterprets the figures.
The writer gives a peak current of around three times the nominal current and says "the values shown are based on an allowance for 6 dB headroom" but 6dB means twice the current . It is 10 dB (=3.16) that he means, exactly the figure given by ACCUTRONICS. Then he says "Accutronics claims a 10dB margin for headroom, which (at least in theory) means that up to 250A/T is 'acceptable', but this is way too high IMO. " !! No , it means that up to 3.16 x 3.5 A-T = 11 A-T is acceptable , not 250 (the cores would be huge)!
Now ACCUTRONICS either reasons in terms of current or power and both are acceptable if we consider a 10 dB headroom. Doubling the current means doubling the voltage etc.... So here we have I x 3 x V x 3 = P x 9 and 10 log (9) = 9.5 =~ 10 dB.
"I will use up to double the 'rated' RMS current, perhaps a little more if it still sounds clean" : in my opinion this is illusory because the dynamics of guitar PU exceed by far a factor of 2 or 3 or ...more !
This underlines the utility of a DWELL control in the driver, limiting the current not too high above the comp uted headroom here.