Poster Extraordinaire
Gold Supporter
Joined

Apr 16, 2007
Posts

5,048
Location
So, my EART 335 semi-hollowbody arrived intact yesterday. I'd like to share some things with the group, since reviews here have helped me so many times.
Since there are many EART reviews on the internet, I'll try to give you the impressions of a long-time Fender guy and do-it-to-yourself luthier who decided to try a cheap ES-335 knockoff before going whole-hog into Gibson or some other high-end instrument. I've been playing Strats and Teles exclusively for about 15 years now.
Because this guitar does deserve some recognition in today's market, I'm going to start with some things that are astonishing. Really.
Keeping in mind that this is a $400 import delivered in a single box (they really should consider double-boxing), the guitar was in excellent shape. Pretty, with its natural "open pore" satin sunburst finish, which I've really taken to. EART says it's mahogany. I'm going to say that it is. Very lightweight ply.
The neck is said to be roasted mahogany with a bound rosewood neck, and I'll go along with that as well. Is the nut bone, as they say? Could be. There's enough meat left on it that I could shape it a little more to my preferences.
Overall, the neck is tastefully done, though the bright-white binding might have looked better in ivory. It has a compound radius and a full feel to it, neither fat nor skinny. It does dive a bit because the body is so light. The medium-jumbo stainless frets (possibly 6150 equivalent) and fretwork were indeed all that I'd read about - - better work than I do, certainly. Frets are polished and slick as ice, the ends rounded. The dual-action truss rod has an interesting feature at the adjuster - - its cover is a little door that swings open for instant access. I took a deep breath before tuning up, stretching the strings, and checking the action.
I checked string height, nut work, relief, tone and string bending up and down the neck. At this point, I was amazed, and I say that knowing the word is overused. It seemed impossible that an action so low could be buzz-free (or as close as I've ever experienced).
On a hunch, I pulled up the Gibson factory settings for an ES-335. Again, to my shock, it was CLEAR that someone had taken the time to set up this guitar using those specs. It was clear. Either EART is paying people to do this work, or they are using some sort of computer-aided device, like Plek, to do this. Yes, going from 5/64" height on the low strings to 3/64" at the high E, 22nd fret. Relief at the 7th fret, strings depressed at the 1st and 15th frets, left barely room enough to pass a piece of paper through. Intonation did not need to be tinkered with.
Now for the "what you might expect" observations:
The tuners resemble Grovers, but are, of course, just look-alikes. They feel a little imprecise when tuning, but they do hold well.
Other hardware looks okay but has the shine of cheaper chroming. Not bad, but you can tell. Look carefully enough and you can see that alignment of the neck, the bridge, and the tailpiece is not dead-on. Not bad, not noticeable to anyone other than a guitarist. Same for alignment of the pickups, particularly the squaring of the top of the neck pickup with the heel of the neck. I've seen worse.
The jack looks a tad cheesy, but works well. The three-way switch does the job easily and reliably but feels less-than-premium. Same for the pickguard. Binding is quite good, with none of the stain overrun you see in some pictures around the internet.
As for the Korean alnico-II pickups, what I'd heard elsewhere seems accurate. The bridge is a little brighter than some people expect - - which is perfect for me, as a single-coil lover. Far from "ice pick" bright. The other two positions are nice, but darker than I'd use in general. Signal shaping at the amp does wonders. Though the pickups are no-names, rest assured they do have character. They sound good, whatever they are under the hood.
Overall assessment:
EART is putting their money where they should in a guitar at this price - - and that is in the neck. I have never picked up a guitar in its class that was so "ready to play" right out of the box. Aesthetically, it is pleasing. I like the finish much, much more than I thought I would. The action is different from my Fenders - - noticeably. Not in a bad way. I suspect the guitar came with 10g strings rather than my usual 9s. For my testing, I ran it straight to a Quilter Micro Reverb 101. This instrument has spirit - - whether clean or dirty, it has a personality, and one that I like. Another reviewer admitted that he couldn't put it down for days after it arrived. I think I get it.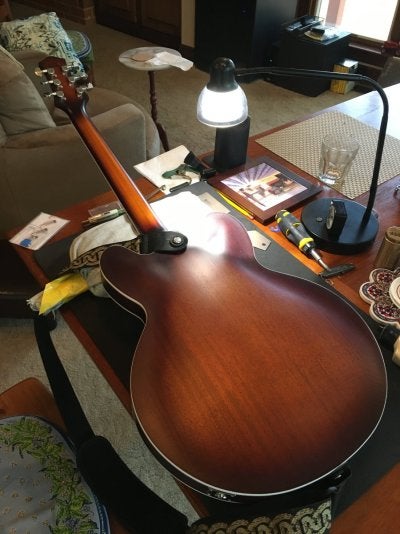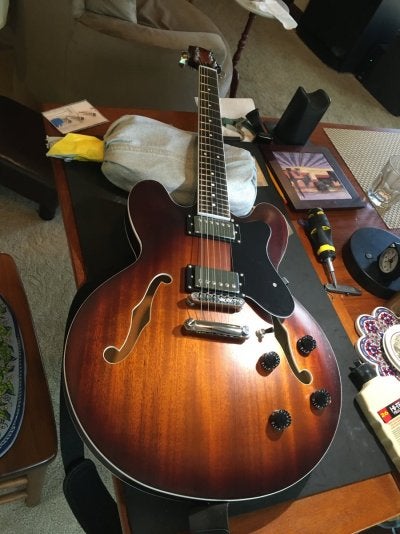 Last edited: