Hello everyone, for the first time I'll be trying a Brotherhood build. This is only my second complete build, but I've built a couple necks for existing bodies. I really hope to be able to make it in time, but that 90 days will be hard with my crazy schedule at work.
The guitar will be a sort of offset tele in torrefied ash, chambered for weight relief, some sort of cap, roasted maple neck, reverse headstock, fretboard no clue yet but I have a couple options. Spoke wheel truss rod, and a single pickup, a tele blade humbucker ( Dimarzio Chopper T). All the stuff that will be used is stuff I have already. I need to buy a Les Paul jack plate. Anyways, on with the build...
I started with a basic tele shape and tweaked it to make it offset. I've had this idea for awhile.
I got some nice torrefied ash for the body. This thing weighs a ton haha so it will be chambered with either a 1/4 inch maple cap or poplar. The top will be painted in a greenish metallic color I think. Would poplar be strong enough for a top at only a 1/4 inch thick?
So I jointed with my no.5 hand plane (I LOVE using that thing!) and glued up my blank.
Now at 2 inches thick I needed to thin it down to 1.5 inches so I can use a 1/4 top. I build myself a better router sled than what I had for my first build. Wider and longer. Before I'd thickness with the only router I had... a trim router with a 1/2 inch bit!!! This process took forever. So I got myself a nice router (not the best but for my use plenty good enough) and a 2 inch spoilboard bit. Seriously, to the guys using router sled, this is the bit to get! Before, going from 2 inch to 1.5 inch this would take me a couple hours. Now, including setup, it took me 30 minutes... Obviously dont be silly and dive in the board taking 1/2 an inch in one pass but 1/8 is perfect. slow down the speed too, its a 2 inch bit...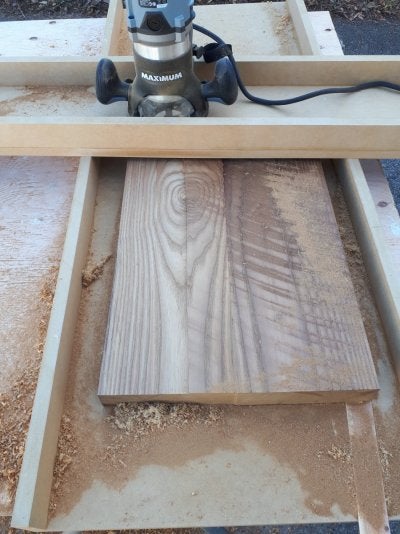 And we are done
Now I made a cardboard template. I never route my bodies. I dont have a table router and I dont trust the hand held for this step. What I do is just trace on the blank, cut pretty close, and sand to the line using the ROSS. I will probably never redo the same body (unless someone wants me to build them a similar guitar) so no point in making a template for that.
Now I did make a template, and that is for hollowing out the body. I left alot of meat on the top portion of the body since I will be doing a bellycut and a big forearm contour ala Kiesel. I did that on my first complete build and I really like the visual effect it produces.
Thats where I'm at for the body. Cant really go forward with it since my workshop is out in the open air, and it's raining and will be for the next 3 days.
So right now I just traced the neck with a headstock I came up with. I was going to laminate roasted and regular maple but I might actually just use roasted not laminated and make a recess like design which will be painted the same color a the body.
I will have alot a of questions for you guys in the next couple of weeks
Thanks for looking!