Poster Extraordinaire
Gold Supporter
Joined

Apr 16, 2007
Posts

5,996
Location
Guitarists for decades have had their pick of instruments loaded with versatile P90 pickups - - as long as they wanted them in a jazz box, a semi-hollow body, or a classic solidbody design. But what about players seeking a guitar of contemporary/progressive styling? Suddenly, the selection slims significantly.
A huge P90 fan, I recently went into the marketplace looking for something I typically pass by: something with flash, flair, and a more contemporary design. I was prepared to go with specs that aren't my usual cup of tea. And I found one - - the Harley Benton CST-24T Deluxe solidbody bearing a more-than-passing resemblance to guitars from a prominent American manufacturer. Made in Indonesia and shipped from Germany with a hard-sided case (not included), with shipping, the bill from Thomann was $401 US. The guitar alone is $235. Here I will add that I am in no way affiliated with Thomann or Harley Benton and paid full price for my guitar and case.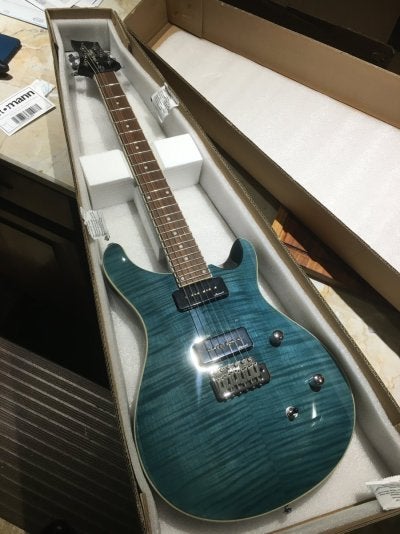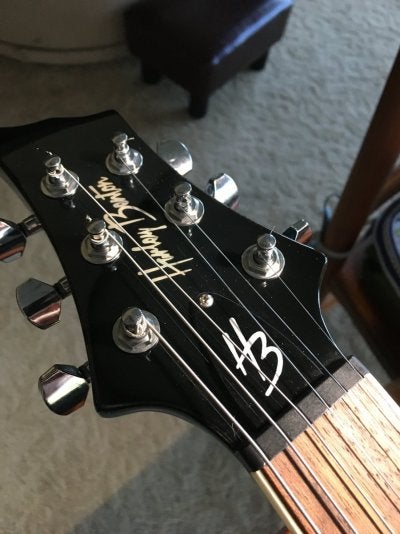 My specimen, in HB's "Ocean Flame" color, arrived in two weeks, double-boxed and without damage. I was immediately struck by the deep-gloss finish and fancy "3D" flamed maple top. The "carved" top contouring is graceful and enhances the two-horned design. The upper bout is deeply scooped for easy access all the way to the 24th fret. Pretty. My pictures do not do it justice - - I suggest you go to the HB website.
Upon close inspection of the mahogany body, I found a couple of small specks in the finish that would be difficult to see from more than a foot away. Those aside, the finish was mirror-like and the color deep and even, with clean, smooth top binding. The body color continues up the back of the mahogany set neck to the 3x3 machine head, which again closely resembles that from a familiar US guitar maker. The tuners are die-cast Rotamatic lookalikes of good quality and smooth action. At the other end, the bridge is a Wilkinson WVPC tremolo that is balanced on the back with a hefty claw-and-spring arrangement and a substantial metal block. Underneath the shielded plastic control plate is a fully paint-shielded cavity housing full-size Alpha pots, all competently soldered.
The bound fretboard, with 24 well-dressed medium-jumbo stainless-steel frets, is roasted jatoba, which is a hardwood of deep cinnamon color. The tight grain comes alive with a bit of lemon oil. The fret ends are smooth and well-shaped. The 43mm nut is graphite and also is well crafted. The neck, to this Fender player at least, feels shallow and slightly wide, a "flat C" that reminded me of a 70's Kramer Artist I played for years. The scale is 25 inches and the guitar came strung with what felt like a standard 10-gauge set. Thickness at the first fret is 0.85 in. and 0.99 in. at the 12th, with width at the 12th being just shy of 2 inches. Fret markers are simple pearloid dots and are cleanly inlaid. Radius is 12 inches. My specimen weighed in at about 8.75 pounds. It is well balanced with no neck dive and the body contours are nicely executed. It is comfortable.
Although the guitar arrived with a slightly high action, the instrument was precisely intonated out of the box and the nut slots were precisely cut. It was a simple matter to bring the action down buzz-free to a low height (approx. 1.5 mm. treble, 1.9 mm bass at the 12th fret). With barely measurable neck relief, notes rang true from the bottom of the neck to the very top. While I am no shredder, I found the neck very comfortable for both chording and scales. It is well suited to finger-style play and the fret hand feels full and supported (my glove size is large, not extra-large, if that helps). After playing with the low action a bit I raised it to my usual medium-low height.
I'm not a tremolo user and hesitate to say much about it, except that light to medium force did not wreck the tuning. The action of the trem arm seems comparable to that of a standard Stratocaster, maybe on the firm side. I was careful to lube all friction points.
The three-position switch feels sturdy and is located nicely out of the way below the bridge. The volume and tone knobs are of knurled chrome much like those of a classic Telecaster. The jack plate is a chrome football and looks sturdy. None of the hardware looks cheap.
As for the pickups, they're Roswell soapbar AlNiCo V's and, as I've mentioned in a previous review, they have all the characteristics of any good P90: their range is wide, with creamy clean tones, gutteral lows, ringing highs, and loads of smoke and sizzle as the volume knob moves clockwise. In other words, what you'd hope for in a dual-P90 guitar. Moving through the three switch positions and using the smooth, nicely tapered tone and volume knobs, you get a truly impressive spectrum of P90 goodness. Go with high gain at the amp or from a pedal and it gets wild - - in a good way. I feel no inclination to "upgrade" the Roswells. They can be extremely hot if that's your pleasure, and jazzy smooth just as well. And everything in between. Interestingly, the P90's running through my Quilter 101 Micro Reverb were not in the least bit noisy. Quieter than most classic Teles I've played, actually.
Overall impressions? When I first saw this guitar at the Harley Benton website, I was actually disappointed that it didn't cost more than the $235 US list price. I figured there was no way a decent guitar with its specs could be any good "in person" for under $300. Or, heck, $500 for that matter. I was prepared to be underwhelmed when I had it in my hands. But once again, as a builder and player, I am in awe of what Harley Benton is delivering regardless of price. The overall quality of construction, both fit and finish, is better than good. It plays like a guitar several times its price. I have some concerns that there could be legal action from another manufacturer at some point, but the consumer is the winner for now.
The CST-24T Deluxe is a potent demonstration of what overseas manufacturers can do with high-tech factories. It thrills me to think that young players, or any player on a budget, or anyone who just wants to step out of their usual niche, can have a guitar that plays this well, sounds so good, and looks great. Because the finish was only 98% perfect, I'll give it 4.5 stars out of five. But that's grading hard. Very hard.
Last edited: