Doctor of Teleocity
Ad Free Member
Joined

Dec 2, 2003
Posts

17,617
Age

46
Location
Sting once said in an interview with a Dutch music mag. "I remember you guys (the Dutch) having a band similar to (The Police) which even had a singer who looked and sounded like me, were they the ones calling themselves 'Do Mahr?' "
Yeah, Henny and Sting were cut from the same cloth, that certainly was true but in the long run Henny Vrienten had a lot more to offer, outdoing Sting in the overall musical output.
But let me start at the beginning.
Using the fake names Paul Santos and later Ruby Carmichael, Vrienten tried his hand at the singer-songwriter genre where people like James Taylor had made such a big splash, without any notable success. His frankly terrible English, no doubt, being a big factor in that.
But Vrienten had the fortune to have befriended some A-list artists, chief of which being Dutch singer Bouwewijn de Groot, who employed Vrienten as a live musician for multiple tours and on albums.
"Als de rook om je hoofd is verdwenen" (After the smoke around your head has cleared away.)
Touring with De Groot introduced Vrienten to two former Hippie Musicians from a band called CCC Inc. Ernst Jansz and Joost belinfante, while drummer Johnny Lodewijks wasted little time introducing everybody in the band to a new style of music called "Reggae" and the musicians started a Reggae band called "The Rumbones" as a side project.
The Rumbones in 1976, they played mostly covers and were to all purposes a festival band who played music as a labour of love. Vrienten is the one with the shades and the cat sitting on his lap.
After the Rumbones folded, Jansz (the guy with the long black hair and the cigarette) and Bass player Piet Dekker (the guy with the blonde curls sitting next to Vrienten) formed what became the very first incarnation of Doe Maar. (Dutch for "Go ahead") and very much like the Rumbones quickly found themselves as a festival band, albeit with no commercial success.
Because inspired by the Punk rock attitude of "We'll just do whatever we want" (which is also why the band was called "Doe Maar" in the first place) the band dropped English lyrics completely and sang in Dutch. Which, at the time, was a very bold statement indeed.
Vrienten meanwhile was hired as a songsmith for the Dutch "Telstar" label, where he wrote novelty songs for other artists and through the royalties earned himself a comfortable living that way. And in-between sessions he also played live gigs and did recordings as a guitarist with Sammie America's Gasphetti
https://www.youtube.com/watch?v=WDFgth-NYVo
Vrienten with Sammie America's Gasphetti in 1979, playing a tasty Mocha Telecaster Custom, a guitar which he continued using throughout his career.
Meanwhile, with his Former Rumbones bandmates, all wasn't well.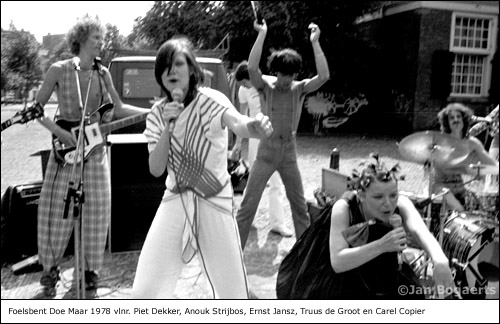 After several festival tours and an album which completely bombed, bass player Piet Dekker left the band. But knowing that there were still performances that the band were contractually obliged to playing, and the fact that with the sessions for a second album also about to start, Ernst Jansz decided to ask Vrienten if he could replace Dekker. At least, so they could finish playing the dates of that tour.
Vrienten declined, his job as a songsmith was quite lucrative and touring with an unsuccessful band was commercial suicide. Luckily for Jansz, another former Rumbone, Joost Belinfante who is the accomplished multi-instrumentalist stepped in, donned a bass and played the tour and the sessions.
Then Vrienten went through a divorce and all of a sudden found himself in a less than comfortable situation and offered his services to Jansz who accepted. And with Vrienten as Doe Maar's bass player, the band began an ongoing reign as the most successful Dutch language band of all time. Vrienten used his experience as a songsmith to good use, crafting songs with hooks big enough to haul in a whale, while also lending helping hands to the other songwriters of the band.
Doe Maar is a Dutch pop group that combined influences from ska, punk and reggae to create their own Nederpop sound. The band originally existed from 1978 to...

www.youtube.com
After Doe Maar called it quits in 1984, Vrienten embarked on a career writing scores for musicals, TV shows and movies and also as a sought after producer, earning himself several awards for best movie score. As well as releasing solo albums throughout.
Provided to YouTube by The Orchard EnterprisesFalling Star · Henny VrientenNacht (De Soundtrack)℗ 2006 V2 RecordsReleased on: 2006-11-23Auto-generated by You...

www.youtube.com
Throughout the 2000's until the present day, Doe Maar did several tours until last year when the band released a Statement that their upcoming "Lijf aan lijf" (Body to body) tour would be cancelled due to Vrienten's ailing health.
Today, Vrienten died at age 73, but talk about a career and what a body of work and influence he leaves behind. He'll go down in history as one of the all-time greats of Dutch music.
Tracklist:1. Nederwiet 0:002. Steady Rollin' Man 5:403. Radar Love 9:17

www.youtube.com
One of the best ever performances the band did, they're joined by Golden earring and Vitesse for a Jam session which still has people talking 40 years later.
Last edited: