Joined

Apr 9, 2019
Posts

10
Age

46
Location
After reading about the hot bias in Fender Pro Jrs, I measured the bias on my PJ IV and found that V3 was 9.6 watts of plate dissapation and V4 was 10.1 watts. The EL84 is rated up to 12 watts, but 70% of that is what I was aiming for to extend tube life. I added a 50K trimpot to make the fixed bias in the PJ adjustable after seeing that mod online.
I'll do this in two posts since it will be a lot of pics.
Ok, time to open it up.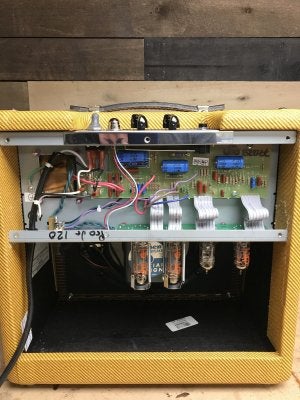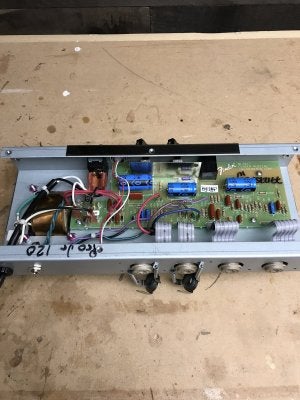 I replaced the resistor at R29 with a 50K trimpot. You need to connect leg 2 (wiper) to leg 1 of the trimpot for it to act as a variable resistor. I set it a 17.7K ohms before installing it to get me close before setting the new bias.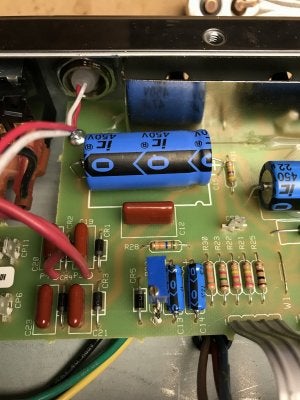 The trimpot does not drop right in. You need to use jumper wires to get it to go into the original R29 holes in the board.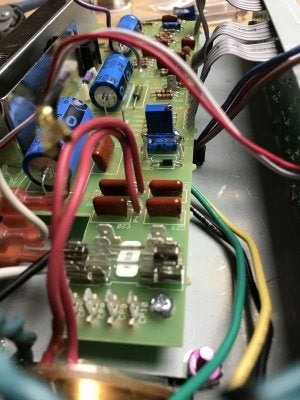 While I was in the chassis, I wanted to add a new output transformer with both a 4 and 8 ohm tap on the secondary side of the transformer (more on that it the next post).
I was able to get V3 to 8.3 watts and V4 to 8.8 watts by using the newly installed trimpot. V3 measured 168.1 ohms across its half of the OPT, -4.23 volts from the center tap, giving 25.5 mA of plate current resulting in 8.3 watts of plate dissapation. The numbers for V4 were 150.9, -4.02, 26.9 mA, and 8.8 watts.
End of part 1
Last edited: