Joined

Dec 30, 2019
Posts

5,376
Location
You missed the tail resistor on the bias pot. I show it going directly to the power side ground point.
An alternative for the ground scheme: Since the power for the tremolo triode comes from a different B+ node, the ground for that triode should associate with that node over at the power side ground point. There is no sense having the *less filtered* current flow through the sensitive input area. This requires the 47 Ohm resistor to be attached directly to the ground bus.
Are you using a 20-20-20-20 cap can? Just wondering if the first two caps are paralleled to 40uF sacrificing the second order filter of the original AA964 design.
Proposed changes: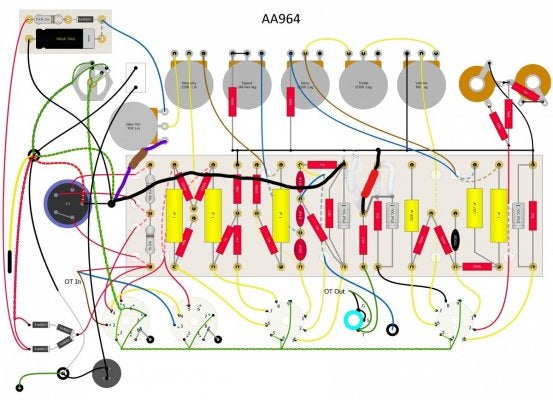 EDIT: The B+ wires to the plate resistors are not shown on your layout so I did not add them to the above.
Last edited: