Joined

Apr 10, 2023
Posts

158
Location
I know impedance varies over frequency as the speaker acts like a complex inductor. Thus using a parallel resistor will not work effectively.
I thought of a couple of ideas, essentially shunting power past the speaker at a multiple of the speaker impedance thus the amp sees the same impedance curve of the speaker. This allows the amp power section to run hot and full power but scales the power to the speaker. Essentially the current mirror mirrors the speaker impedance.
I'm thinking that a current mirror could detect the current change to the speaker. As the signal is AC, it would need a dc bias but this would halve the AC current to the speaker: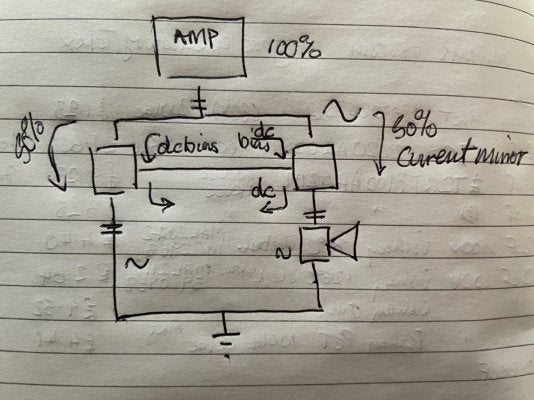 Now the mosfet is non linear so a better option may be to use error correction using opamps to detect and correct.
Has anyone done this (so I'm not reinventing the wheel) already?
Edit - it'a occurred to me that the DC offset could be removed using a second current mirrors. thus removing the need for dc blocking caps.
Last edited: