Joined

Sep 3, 2021
Posts

20
Age

52
Location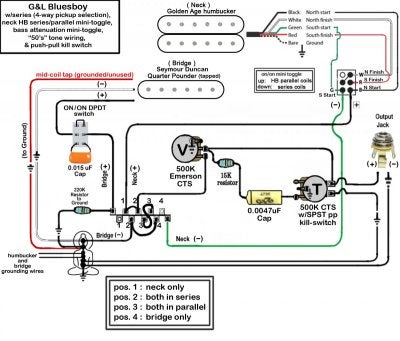 (long)
Greetings! This is my first post here. My actual question is in the 3rd paragraph below.
On my G&L Bluesboy I've replaced the stock bridge & it's 6 brass saddles with a heavy Gotoh bridge from Stew Mac b/c when I got it as a SDOTD from MF it was the twangiest twang that ever twanged... and I'm really a dual-humbucker guy. But the neck is just great ...and, I've got time to experiment with the thing. I've got it sounding pretty killer at present, despite that the replacement pickups I chose are honestly not really so well-matched. The whole beast is a product of knowing just enough to be dangerous.
. The very mild tone cap (0.0047uF) I installed is just perfect for this axe.
So I've been sent to my room to think about what I've done, and I'm just stuck, man. I'd love some help sussing-out what's happening here ...even moreso than correcting things. I started with the Fralin diagram for series wiring a 4-position Oak-Grigsby. At it's heart, I'm not grokking the 4-position series circuit thing fluently. Having one PU's - go straight into the other's + makes intellectual sense... but my brain goes a bit numb with the diagram logic. I'm fluent with recording console signal flow, and a solid novice perhaps at reading guitar amp circuit charts... but guitar circuits with this grounding business and complete vs. incomplete circuit is new to me. Recording consoles have always seemed to be just inputs and outputs: the paths either flow or they get brick-wall stopped. Having a guitar circuit go through a pickup, connect via ground, or a tone pot connection acting as both input and output are a bit maddening to me right now.
My question is "why does my parallel setting with the bass-cut engaged sound ballsier than the series pickup setting without that bass cut?" Am I accidentally eliminating the parallel wiring by having added that 220K resistor at the principal bridge lug of the PU selector? The pos.3 parallel is distinct from the pos.2 series tonality, and louder. Really a great sound! fwiw, the bass attenuation switch is there —as intended— but barely perceptible with pos.2 series or pos.4 bridge-only. I'm pretty certain I don't hear it at all in pos.1 neck only.
Surely the "bass attenuation" Cap should've been placed in the humbucker's path, but this happy mistake might be the reason the "parallel" (pos.3) selection sounds as ballsy as it does.
Second, the idea of the 220K resistor I installed directly at the PU switch Bridge + connection was for it to be in parallel w/ the 500K Vol. pot and make the single-coil "see" a mellow ~153K pot instead. I'm pretty sure it's actually wired in series by mistake, though... which yields 720K (?).
A couple things... opposing my diagram, the Seymour Duncan "Quarter Pounder" (tapped) instructions say black is ground, white is hot, and red is the mid-coil tap. I re-soldered B & W this evening to that spec and it's weak as hell. So I put back white as hot and black as ground and voila! Also... if I don't ground the red tap wire, I get silence... so I've grounded red as well as black. Also, I'm pretty sure the tiny length of grounding wire on the base plate is still intact. My bridge is also grounded. I did buy the PU as a "demo model" in like-new condition. Am I missing something obvious?
fwiw, my custom pickguard and control-cavity plate are polycarbonate (pseudo-acrylic), and so have no shielding... but the cavity itself is painted.
Re: series wiring, can someone please tell me in general if wiring the bridge into the neck sounds different from neck into bridge? I haven't found that discussion yet.
Opinions on the stock G&L ASAT Classic humbucker vs. the Golden-Age HB are very welcome. Should I put the original back in? When I installed the GA it didn't seem very different at the time.
Thanks for hanging in there with me!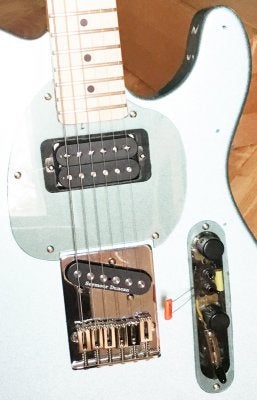 Last edited: