Joined

Feb 10, 2021
Posts

357
Location
rather than annoying everyone and posting a thread for each build, i thought i'd a share a batch of builds from the last month or so instead..
OD-1:
being the historically important seminal circuit that brought us the SD-1 and TS-808, i absolutely had to try this one out.
the simplicity and absence of a tone control makes for a very satisfying build, especially with the quad opamp.
Surprisingly capable, sounds fantastic to my ears, but perhaps a little bright/thin (would be perfect if i could 'dial in' some more low-mid/low end)
SD-1:
just finished this one yesterday.
i already had an SD-1 build w/ pedalpcb board in a hammond enclosure, but after recently re-discovering how much i love this circuit, i really wanted to do an SD-1 vero build.
something about this circuit that just cuts with a pleasant high end bite that the TS/OD808 seems to lack.
(MXR) custom badass modified OD:
a similar circuit to SD-1 and mxr GT-OD, the lure of the 100Hz boost/cut control with this variant was the main motivator.
Very hot output, huge amount of gain. Almost too much for me. Very spicy overdrive.
(way huge) swollen pickle mkii fuzz: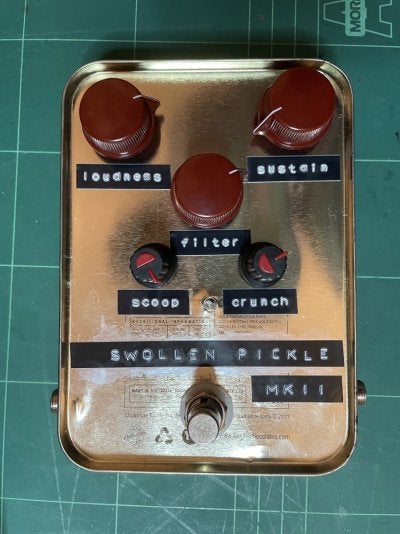 1st fuzz pedal build. i never really use fuzz pedals....
but then i noticed a band i like the sound of, actually uses this pedal stacked on top of an overdrive for certain riffs and it adds this incredible hugeness, excessive but pleasant saturation, whilst retaining some structure/tightness thanks to the preceding OD.
I never expected a fuzz pedal to add so much bottom end, it's like a bass button / doom-boom button (when used as described above).
Not something ill use very often, but this build was a lot of fun.
OCD ('V3'):
I got sucked in by the lure of the unknown. supposedly what makes this circuit unique is the use of x2 mosfet transistors (2N7000) as a hard clipping pair.
Despite the praise this circuit receives across quite a range of styles/tones, it did nothing for me. Loose as a goose, fizzy, muddy, just not my jam.
Oh well. Hopefully one day I can give this to someone that will enjoy it.