I mentioned this one a while back:
https://www.tdpri.com/threads/whats-on-your-workbench-today.301373/post-11307885
.
My mom and dad brought me to Henri's Music in Green Bay almost 40 years ago to buy my first solidbody electric. Unfortunately, I trashed it when I was trying to hot rod it during my teen years. Confidence without common sense or skills is a dangerous thing.
I'd been puttering on to between other projects, but after my mom passed last year, the restoration meant even more to me.
It's done now. Here's what I did:
- I spliced in new mahogany from the middle pickup to the bridge to fix the mess I made putting in a humbucker and a Floyd with a hand drill and dull chisels.
- Switched to a two-point Fender bridge. I usually deck my trems, but I have this one floating, and it stays in tune like a champ.
- Made a replacement pickguard. I used a 1/8" roundover instead of a bevel. I like the softer look.
- Refinished the body in candy-apple red (more on that below).
- Built a new neck from mahogany and Indian rosewood. I made some changes here: it's now a headstock-adjust truss rod, and the back is finished in satin clear and masked to candy apple at the headstock. I created a replacement logo with my wife's Silhouette paper cutter. I used a paint pen on the heel to disclose that this is a repro neck with a replacement logo. I hope one of my kids will play this next, but I didn't want there to be any confusion about what it is.
- Staggered locking tuning machines with no string tree. Tusq XL nut.
- Pickups by Bootstrap. I ordered the Golden Ale set, and they're wonderful pickups. They're not wonderful
for the price
; they're just plain great: quiet and perfectly Stratty.
Before:
During: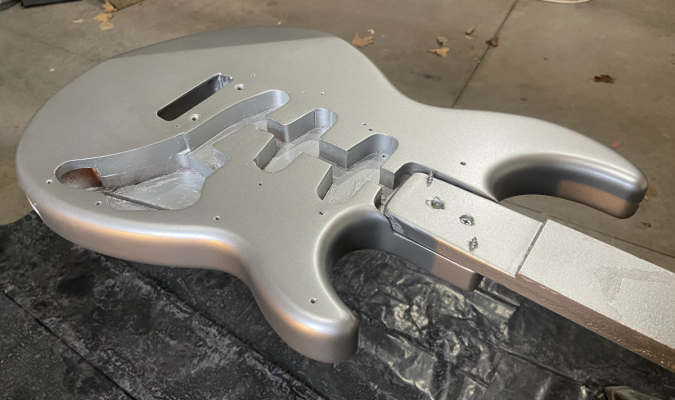 After: