Joined

Jan 26, 2007
Posts

706
Location
Yes... oink oink Gear Pig me just posted a NPD for an SA Ventris Reverb last week...
In a day when effects pedals seem to have jumped off some type of psycho technology cliff, leaving the end user gilded by including a "War and Peace" sized instruction manual... yuck. I hate reading, I hate manuals, and thank God for Source Audio (who doesn't even need to send a manual with...
www.tdpri.com
Now, I have obtained the Source Audio (same form factor) Nemesis Delay... Both are actually replacements which had to be sold survive (with just about every piece of gear, guitar, stomper, amp, mic, speaker). To me, this is the Top of the Rock for a team of reverb and delay pedals. I hope so, dishing out $760.00 for 2 pedals is probably insane to most.. (Ventris Reverb, $430, Nemesis Delay, $330).
There are and is a lot of competition and competitors out there for the multi-delay and multi-reverb pedal types. You may own what you love, and you have (maybe) reasons you spent any cash at all on anything. MOOER now makes multi-effect type pedals, and Strymon, Line 6 and others are at the top of the category.
The "big dog" for many folks right now seems to be the Line 6 Helix (full board, plus several smaller and at different price point options of the same contraption and technology). Sweetwater has them for $1,699.99,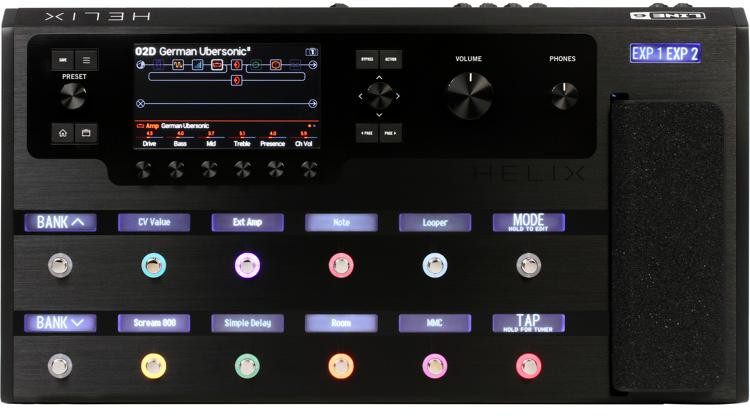 Guitar Multi-effects Pedal with Amplifier Modeling, Simple Editing Interface, 12 Footswitches, Expression Pedal, Aluminum Enclosure, Analog and Digital I/O, and USB Recording Out

www.sweetwater.com
Strymon has their "trifecta" of Timeline/delay ($449.00), Big Sky/reverb ($479.00), and Mobius/modulation ($449.00). Both Line 6 and Strymon have amazing sounds packed inside. I'll give them all of that, they've spent the time to make the goods, and I won't take anything away from that, even though both brands are far outside of my choices for gear. I have really some simple reasons why "not" Strymon or Line 6... It's just "me"...
The #1 main reason being...
For one, as a human being I HATE reading. Both Strymon and Line 6 (and BOSS, DD-500, RV-500, MD-500) have these thick (I call them) "War and Peace (novel) sized" manuals. You have to learn the language of what does what to what before you can even tool down the road with a couple decent sounds. To me, and for my use, that is just too much reading.
I'm an old-school single-pedal guy. I still have my 1979 ProCo Rat Distortion... that I bought brand new in 1979... one switch and three intuitive knobs... now they tell me it's "vintage" and worth a bah-jillion dollars, and one of the best distortion pedals ever made, which many to follow have cloned again and again. But the Rat was the first (well, it was the first Rat, anyways). She's seen some warfare, but still jams hard when you click him on... (recent picture, note surface rust and big dent in top, LOL)
I've been playing guitar since 1975 and I've seen a lot of things come and go. Around the same year (1979-ish) I also had an ARP Avatar guitar synthesizer. Years later I learned that ARP only ever sold 300 units of Avatars to the public, and because of spending million on the Avatar's research and development, ARP went out of business. The Avatar was the self same analog synth as the ARP Odyssey, except with a hex pickup that fired the synth rather than a piano type keyboard. If you want to hear the ARP Avatar on a recording, check out Led Zep, In Through the Out Door album. Jimmy Page had one...
I also leap frogged over every single rack mount all-in-one preamp/effects doo-dad that dropped out of NAMM in the 1980s. Rack mount was about the last I saw of MXR until they surfaced later. A whole long list of manufacturers got their manual writers employed in those days describing what a "parameter" was... and on page 12,752,322, you had a list of internal "parameters" (whatever the Hell "parameters" were... they lost me at "parameter"... LOL)
OK, so I like single pedals, so why Source Audio, then?
Their Ventris reverb and Nemesis delays have incredible digital effects inside. If you look at the front panel of knobs and windows on some gear, it is like trying to read Chinese (and you just made it passed Dick and Jane) (Yes, the "Rub, Spot, run!" Dicks and Janes...). But the front panel of the Ventris and Nemesis are intuitive. They don't have any Chinese language knobs named in some new language you can only learn by reading their version of War and Peace.
It might be something to point out... neither of these Source Audio pedals come with any kind of a paper manual. You can download a manual from their website in PDF, but the point I'm making is that 1) they sound every bit as good or better than the Strymon or Line 6 effects... but you take the SA pedals out of the box, and you are making great sounds and able to change them in seconds, not mponths after reading a manual...
What about depth?
OK, so you want to tap into a Source Audio One Series pedal on your PC or MAC?... They offer a free download of their Neuro Desktop Editor (for PC or MAC, your choice). The GUI interface for the SA devices in the editor are also very easy to understand. They all pretty much have a virtual knob you can grab and turn with your mouse, and/or drop down menu you click and choose from. You don't need to be a math wiz to tell their pedals what to do. And each SA One Series pedal has a distinct large list of algorithms inside (accessed by the editor software)... For example...
Using the editor, you can access these effect type with the Nemesis Delay:
The GUI (graphic user interface) window for the Nemesis is straight forward if you've ever used any kind of DAW plugin...
(there is actually more to the GUI view that I couldn't catch in one screen print)