Joined

Jan 31, 2012
Posts

4,582
Location
I was in the shower the other day and I said to myself, "Self" I said, "with all the talk about maybe having to wind your own pickup for the 2013 challenge, I wonder why nobody has done a winder build thread?" I mean really, I know there are guys here that could do it. I know Scatterlee had a good thread a while ago, but come on...surely there has been some technological advancement since the invention of the spinning reel! Motor City Tele had a nice bit on his sewing machine winder, but that was 2010. (I think the sewing machine was circa 1890) I bet there are lots of sewing machine winder threads, but I don't have a sewing machine.
Well, if nobody else will do it I guess I will. Maybe this will give someone an idea of how to build a PU winder. (Not that I know how)
First you need a plan. I had a plan. I had 18 different plans. See, this is where it would really have helped me if someone else had done this first. One of the early plans involved using an o-ring as a belt drive. I just wanted to slow down the 1800rpm cheapy motor I had laying around by using different size wheels. Now if somebody, like maybe Barncaster, had done a thread and said all that crap would take up too much room in the container, I would have thrown out that idea sooner.
Then there's the problem of a counter. If Herb (adirondak5) had suggested a Red Lion CUB digital counter, it would have saved me days & days of research. Then there's speed control. I bet I could have learned lots about that from R Stratenstein or jimdkc, but NOOOooo, where are you guys when I need you? So after painstaking research, I decided to go with Pulse Width Modulation.
Sounds high tech doesn't it? You can buy PWM DC motor controllers on eBay pretty cheap if you don't mind waiting for it to get here from China. I found a dimmer at Amazon that I hope will work (it worked in my pre-assembly tests, but it may melt by the time a pickup is completely wound).
My best plans usually start by wasting a great deal of time drawing stuff on the computer. I think this is rev. 28 or so.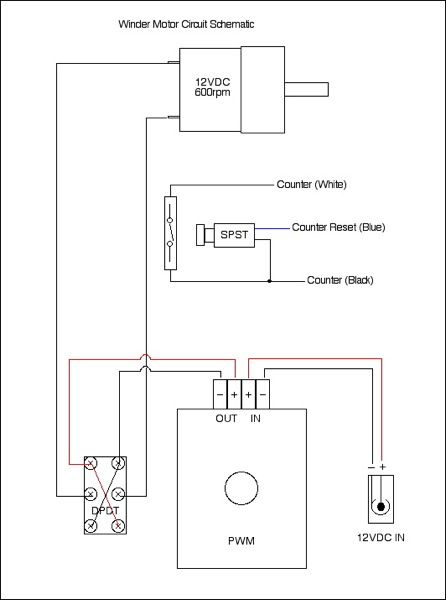 Looks good on paper, but I'll need some parts.
Gear Motor (10-1) 600rpm 12VDC 62mA - 17.95 Jameco
Wall Transformer 120/12VDC 1000mA - 09.95 Jameco
PWM Dimming Controller 12VDC 8A - 09.38 Amazon
Red Lion CUB3LR Miniature Digital Counter - 15.00 eBay (not shown)
Pushbutton Switch SPST momentary - 02.00 Radio Shack
Toggle Switch DPDT - 03.99 Radio Shack
Magnetic Reed Switch SPST NO - 00.99 Jameco
Size M (2.1mm x 5.5mm) DC Plug - 03.19 Radio Shack
I had to design a box for the winder. I would have thought someone would have come up with a cool container for a winder, like...I don't know...maybe an ammo can or something. You guys are letting me down. I had drawings and everything for the box, but it transformed several times and in the end, I just kind of threw it together. As a matter of fact – I'm still throwing it together.