Joined

Aug 11, 2019
Posts

213
Age

50
Location
I have been selling stuff and replacing with other stuff recently. few guitars have gone, couple of amps, loads of pedals
i've been picky on my replacements so this one is an outlier
i have spent months aching over P90 equipped goldtops, US Jazzmasters. i put a bid on a Gretsch Jet last week, but the counter was over my budget. lost out on a Greco goldtop deluxe - could have been a great project platform to make a 56-alike goldtop
then a thing happened. a light went off in my head
y'know them Fano/ Novo guitars? sometimes i look and go "PHWOAR!!!". other times i think someone left their guitar in a hot car and it melted. in a bad way
and that headstock?? no. no way. just can't have it
however
Rivolta
now, they are interesting. and the headstocks don't make me throw up in my own mouth
not pricey either
did a little research and suddenly up pops Reverb with a 2nd hand one
its was @ 60% the price of a new one, and it ticked a load of boxes
P90s?
Bigsby-esque trem?
unique design?
different from anything else i have?
so it was a big YES and moments later paypal was engaged
so here it is
Riviolta Combinata XVII in Toro Black
yes, a new one would have had gold plastics instead of bright white, but hell it looks great
its come with a proper fitted hardcase that is fluffy purple on the inside
the neck is a complete bat - feels exceptional - though the action could go up a hair to help with bends
trem... works. its a duesenburg, so more worble than divebomb. i mean, i am not a shredder. so this seems fine
the pickups are spanking. just played a load of riffs , and its taking everything i can throw at it
and its really comfortable. well balanced, your arm sits nice over the german carve
just a great, great guitar.
i have a Maybach Lester on loan with a mate who is considering buying it. if he does, i might reinvest that into another Rivolta. i am very pleased
images are low quality and blurry, but that's life
+note - its not black; its black with a sparkle top coat. which is just lovely+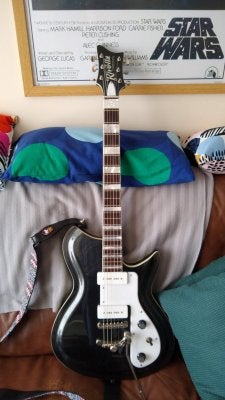 Last edited: