I bought this Bullet Strat from a friend about two years ago (they wanted to just give it to me but I insisted paying $50 for it) with the intention of modifying/customizing it with some parts I had lying around. A couple years of procrastination later and it's finished!
TL;DR: bought a pink Squier strat a couple years ago, upgraded its tuners and put a Gibson (gasp!) humbucker in it.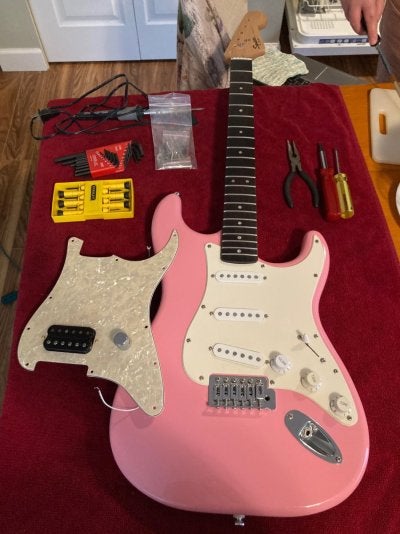 The stock single coils sounded decent/very warm for single coils but I already have an SSS strat so I wanted a different setup. I've had a 1 humbucker pickguard sitting around from my punk days that looked great against the pink so I thought why not. The humbucker was originally an SD Distortion but I installed that in an SG Faded Special, swapping out the stock Gibson pickup (490T). The two 490's sounded great in isolation but I was never happy with the way the two pickups contrasted each other with the same amp settings. The 490T is now installed in the pink, punk machine and sounds great!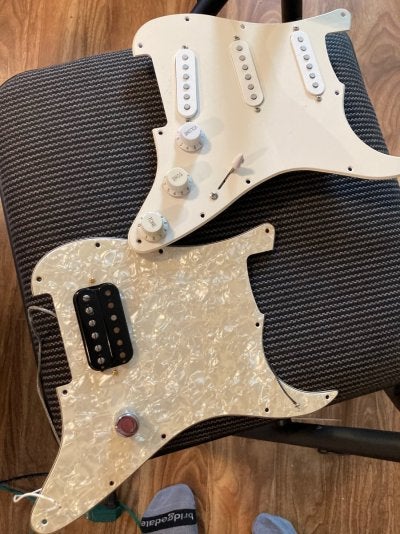 Due to the extended pickup screws on Gibson humbuckers, the body cavity needed to be routed a bit (to the right of where the ground wire comes out of the body) to accommodate for the length of the screws.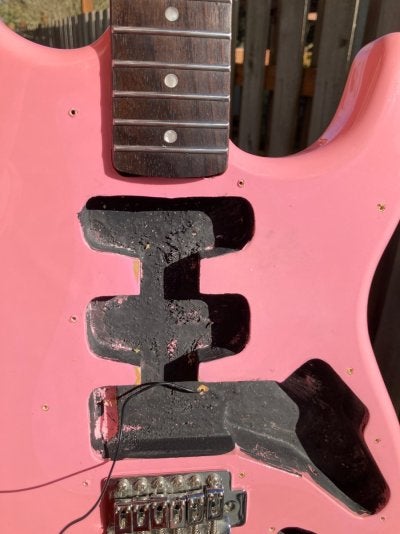 The stock tuners were terrible and almost non-functional from not being used for years (the guitar sat in a closet for about 8-10 years before I got my hands on it). The main tuning machine holes in the headstock needed to be enlarged to accommodate the 2-pin Fender tuners that were taken off my MIM strat years ago and have been sitting in the drawer. A drill press did the bulk of the work then it was finished by hand. We also had to drill new holes for the 2 pins that hold the tuners in place (you can see the original tuner's screw holes).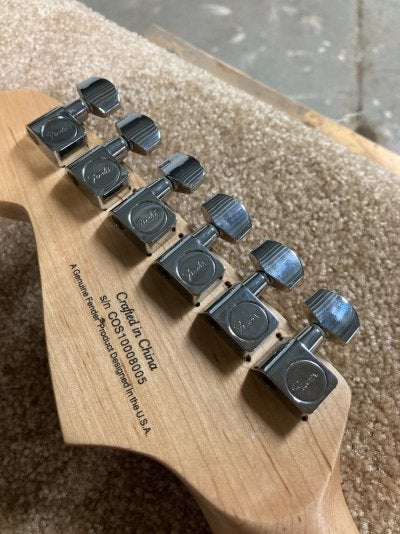 The pearloid/single humbucker pickguard holes (an official Fender product) however didn't line up with the stock pickguard holes (a Squier product) so the original holes were filled and re-drilled for the pearloid pickguard.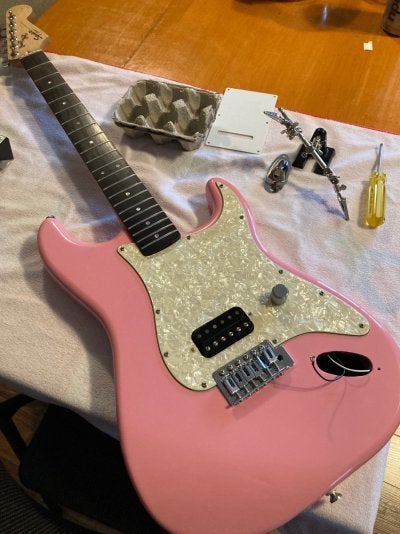 And finally, a setup!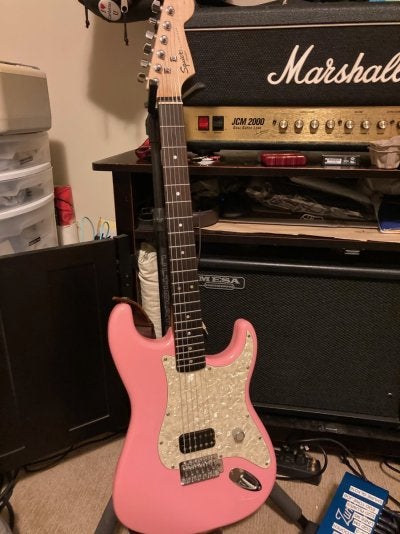 My Fender Family now: