A like new Epi Casino came up on the local CL , great price with Hard Case so I bought it. I haven't had good luck with Epi modern stuff and have tried several, not really bonding. 335, 335 satin, Emperor Regent, Korean Sheraton etc.
The darn thing was bought at the local music store a few years back. The owner said he bought it for some home recording and that's all he did.
It's like brand new. HOWEVER... the fret board was covered with yuck that was impervious to water clean up. I eventually scraped the large amount with a razor blade then used petro based solvent to clean it. man it was thick. hard to figure what this guy used, does he bath in suntan lotion?
Had to turn a few of the bridge inserts around to intonate properly. The bridge height screws were floppy loose in the body bushing so I wrapped them with teflon tape.
Anyway, I kinda like it. We'll see....
CRUD scrapings: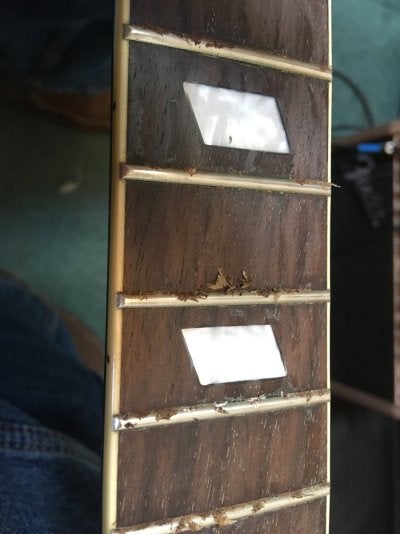 CLEAN:
Last edited: