Been meaning to make a post for this on this forum.
I went to check out this particular model and there was two in stock. I had the guy bring both out, and this was the nicer of the two. Just impeccable, really. Found no faults. The other one had tool marks and scuffs on the fretboard..some pretty rough lookin' stuff, actually. And it had a buzz on the A string. I'd be careful about ordering these site unseen. So just...beware.
Anyway, onto my new guitar, which was the better (and perfect) of the two: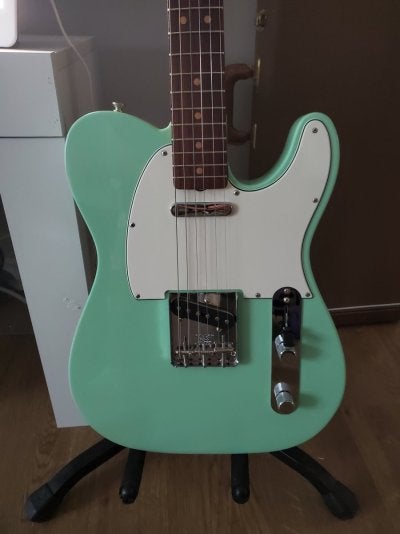 The neck is a really nice rounded C but is plump enough for my hand and actually was somewhere around 1" at the nut, which surprised me. Comfortably thick for a 60's profile. I really really like it. And I am discovering I really like the 7.25 radius with the tall vintage frets. I have 'tall narrow' or '6105' frets on another guitar, and these tall vintage frets are less 'speed bump' when sliding. They're actually quite comfortable, and work well with this radius. I actually think it might be my new preference.
The 63 Pure Vintage pickups are really good. Really really good. I love the bridge pickup....it is the Tele bridge pickup in my head....stays out of the ice pick zone and just grunts out of the speaker of my Carr Telstar. The neck pickup is really clear and has a glistening top end that I love. I like it better than the Twisted Tele neck pickup in my old Baja Tele I had. That was too Strat-like. The middle position...with these two pickups...is to die for. They did a really good job.
This thing is VERY resonant and loud when playing unplugged. What I look for most of all in a good Tele. Besides them over-doing it a bit with the neck tint for this series a bit and the fact that I wish the fretboard was just a toooouch darker, I have ZERO complaints, and after a week, this guitar has barely been put down. Really high quality Tele, and it just sounds beautiful.
Absolutely love the aged clay dot fret markers. Have always wanted a Surf Green Tele. And love rosewood boards. So
...this guitar ticks a lot of boxes for me.
The case it came with is very nice as well. No G&G label on mine, inside or out. Surprisingly. It came with that California chemical warning tag on it..so I suspect these are being made in-house now?