Joined

Feb 2, 2019
Posts

4,043
Location
After a bit of a hunt, and some luck, my jag arrived today.
I'd been after a CAR jg66. None were available for reasonable prices.
Also, I'd been digging into research on the horror stories regarding the setup and using the tremolo.
Randomly, a sunburst '08 mim cp special popped up.
I haven't been into sunburst since high-school. But this one had some sweet red to it. I'd been messaging back and forth about prices on a 60s lacquer and a bit high priced jg66.
The sunburst one wasn't even a model on my radar, but the pictures had a cool red thing going on in the burst. Price was listed at about the "lowest" the other people said they were willing to go. And even though it was in Canada, Shipping was listed a bit lower.
So I shot the guy a message asking about what his lowest would be, and stating that sunburst wasn't even on my list of things to consider, but I liked the reds in his.
I got an offer shot back with a message about it looking better in person but being hard to get in pictures. His offer was $150 lower than going tlrate on that model, about $200 lower than the other ones I was considering.
And free Shipping.
I didn't want burst. But this one was more reds than brown or yellow/orange. So I wanted this specific burst. But I wanted a red jag. Didn't i?
I was at war with myself about pulling the trigger. Reviews indicated this bridge setup was pretty great. Opinions on pickups were divideI?
I caved.
It got here today.
Haven't ran it through anything but the living room amp so far. Jury is still out in the pickups until it goes through the 5e5, Frenzel and big Fender. Because that's the screening process. (Bootstrap isn't taking orders currently, I've got time). Both circuits work as they should, as does the strangle switch.
It's set up with 11s. Now, I run 10-48s on my 24" stuff. But this is set up spot on, not much more tension, stays in tune working the trem (both ways). So imma keep it with 11s. 0 ambition to have it to stay with this action and a working trem.
But that red, it's hard to get in pictures.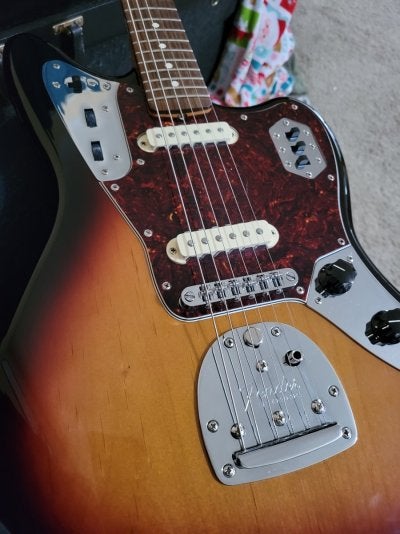 Only issues are loose bottom strap button (I ordered a black levis strap and Schaller style fender locks Saturday that got here Monday) and one gouge (burn?) On the back thst was pictured before I bought it.
A problem that's specific to me is I don't like leaving things stock. Be it the guard, pickup covers, or pickups, something asthetically will need to change in the next couple months. Maybe red covers. Maybe a flat black guard.
I'm excited. Might run it through the Frenzel with the 4×12 tomorrow. (Have to clear a path) This was the last solid body on my "to buy" list.