Joined

Mar 16, 2014
Posts

1,923
Location
I mentioned in another thread that I ordered some boards from Delyk, starting with a through-hole PT2399 delay 1590A size build similar to a Deep Blue.
I've been building 1590A's as a bit of a challenge, the opposite of what I was doing last year with big complicated circuits like the Aion Lab L5 Preamp and their Blueshift, an awesome chorus. After those, I figured I'd build something smaller and simpler like 1590A's. Perfect for a Rangemaster, but the more complicated the circuit, the harder it is to fit in the box!
This delay board from Delyk should fit, but I've found clearance is really close when socketing chips. I ended up socketing the opamps on my mini-Klone, only because I was troubleshooting and out of extra TL072s. I figured out later it was my wiring goof on the pot sub board. No sub board for the pots in this case, but I am using Vero like Madbean describes in his building small pedals guide to connect the wiring. It will be a tight fit, hopefully not too tight.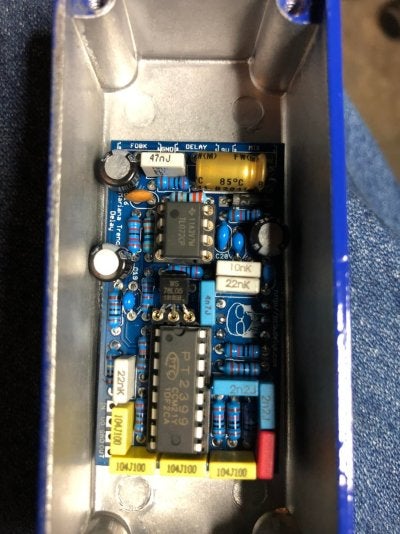 I'll have some 1590LB sized boards next, I think he's the only one I've seen with PCB's for LB enclosures. I have a couple Henretta Engineering pedals, an Orange Squeezer and a clean boost so I think the size is cool for a mini pedal board. These boards I bought are for a Zen drive style overdrive and an SHO style boost, should be fun!