Joined

Feb 10, 2021
Posts

383
Location
I was wondering if you had the Tip and Sleeve swapped. A guitar or transformer coupled device might still work, but most things won't. Glad you got it sorted. Thanks for the sound clip BTW—very cool. Nice to see it all come together. I'm happy for you. I'm pretty sure you'll figure out what to do on the reversed MV.
thanks so much for your help. i am in your debt.
had a real good session with it tonight after a few changes......
so tonight i addressed the MV wiring thingo. that's all sorted.
but after having a go with the TMB controls (and I know these are weird if you're not used to them), I wasn't quite sure about the wiring around the mid and bass controls in my layouts above...
especially after i had a look at a layout of a twin reverb that has the exact same tonestack (if you ignore the treble caps)
MK2C+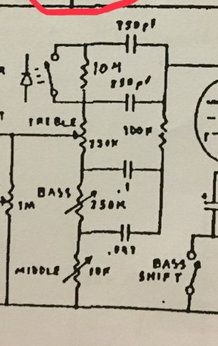 twin reverb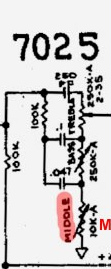 twin reverb
the layouts go in different directions, but you can see here that what i've done is different.
- above, the bass and mid pots have nothing connected to lug 3.
- my initial layouts have lug 3 connected to lug 2 on bass and mid pots.
so here's what i did:
old layout with corrections annotated:

updated layout: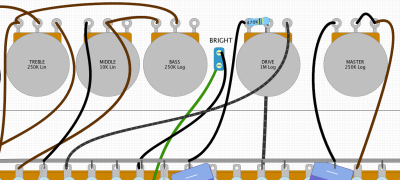 and after making these changes, and playing with the TMB controls (just to confuse myself more), I'm still really not sure if the old layout was correct, or if the updated/current layout is, and im wondering if there was any difference
serious question, does it even make a difference if lug 3 + 2 are connected on the bass and mid controls?
have i got it right?
apologies for the dumb questions.