Joined

May 23, 2018
Posts

2,481
Age

55
Location
This may be repetitive for at least some if not most of you, but searching for answers myself I did not find this information on TDPRI, and certainly not all in one place. I may be wrong and my Google-fu may be slipping, though.
I came across this page, purporting to be from a 1950 Fender catalog, which shows Mapes branded strings being sold by Fender.
I think it may be a reasonable assumption that these are the OEM Esquire, Broadcaster, Nocaster strings.
Further searches indicate that these strings used hex core wire, were likely a Monel alloy, and were round wound, ground and polished. (Similar to modern D'Addario half rounds?) This is from a Mapes Hawaiian set, but all indications are that the composition is the same for the Spanish set.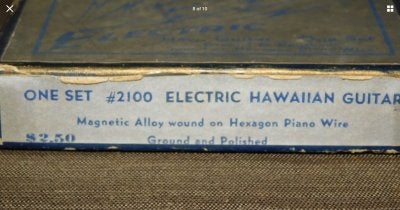 Then online there is a gap until a 1955 catalog.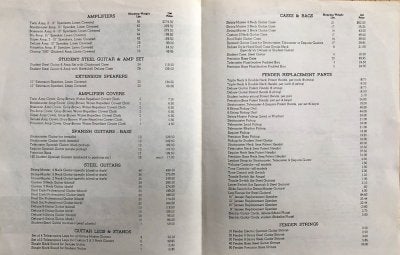 The #10 strings are likely the same, but now are in Fender branded packaging.
By the 1957 catalog, Fender indicates that their strings are now "New" pure nickel. Are these made by Squier? If so, where did Squier buy their wire? Was the core still Mapes hex core wire?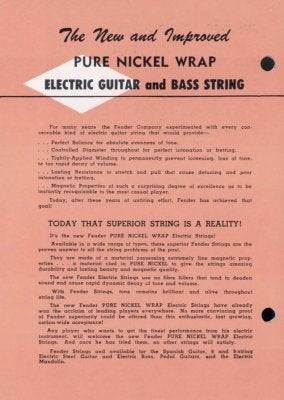 By the 1960's the ground polished strings were no longer the #10 set, but they were still the style that was on all factory full scale Fender guitars. Still ground and polished, but called "Smooth Round Wound", but now pure nickel and not an alloy.
The #10 set is still labeled for "Spanish Guitar" and is pure nickel. It is most likely just plain Round Wound. It is NOT the Flat Wound set (Mastersound #50), and it is NOT the Smooth Round Wound set #1500. Check out the gauges!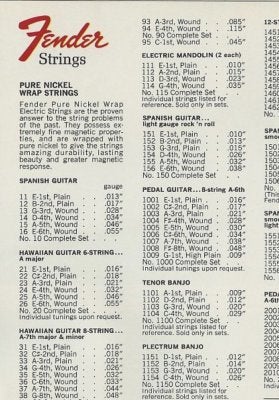 Just thought I'd share and let facts or opinions go from there.