Joined

May 27, 2008
Posts

29
Location
I wanted some tall, heavy knurled, broadcaster style knobs for the finishing touch on my first build. A few vendors sell them but, I thought $50+ for a pair was a bit steep after I'll I've spent already. Plus, I have a small milling machine out back and a metal supply store down the road, so I thought... why not make them myself?
$12 later for chunk of 3/4 brass round stock and I went to work.
After it gets cut into a more manageable section, I clamp it into the mill with a v-block and face off the cut.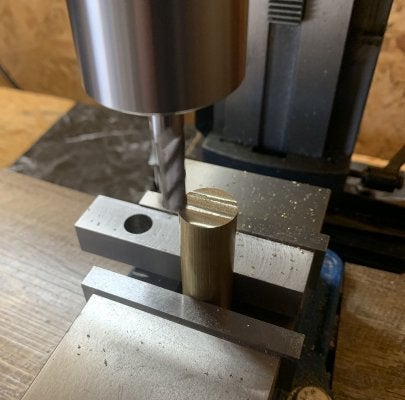 Next, we use a 3/4 collet to hold it in the spindle and turn the mill into a lathe so we can knurl it.
With all the oil and fine brass particles, it can make quite a mess so I clean it up with mineral spirits and shop towels before the next step, otherwise it looks like Goldfinger paid a visit.
Next step is to make the dome.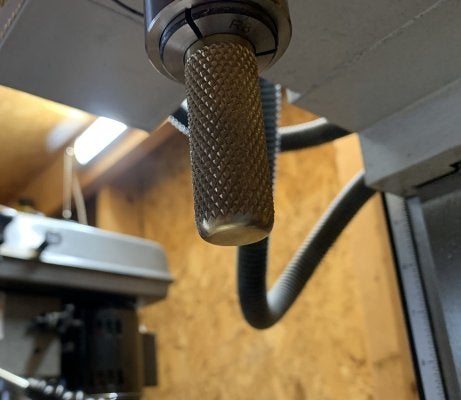 I'd like to get a radius cutter for this. I'm doing it by hand with files and sandpaper right now so, they all end up being a little different. Then again, so were the originals. Leo didn't care if they matched... but I kind of still do...
Anyway, we need to cut that knurled section down into an actual knob and face off the opposite end. It's back to the v-block with some leather to protect the knurling and hold it down nice and tight.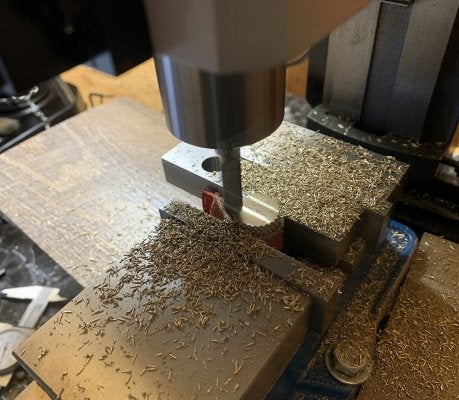 I pick up the center with an edge finder and then it gets locked in and center drilled.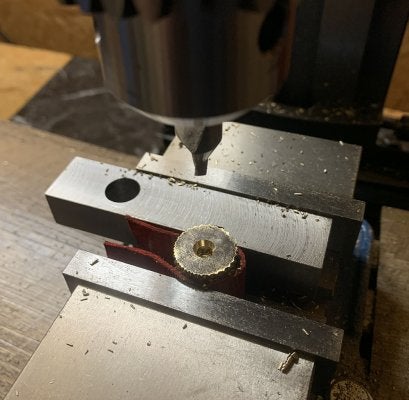 I drill the 1/4 holes for the pot shafts with an undersized drill bit mounted in a mill collet instead of the drill chuck. This way, everything fits all nice and tight when it's finished and not horribly loose and crooked. If you're more competent than me, your results may differ.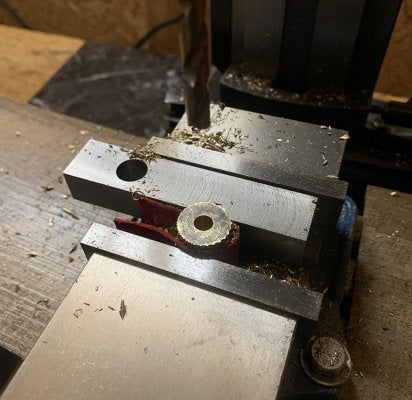 Then I break out a 5/8 drill bit, mount it in a collet as well for stability, and make that giant counter sink hole to fit the pot washer and give it that nice conical step like the original 50's knobs.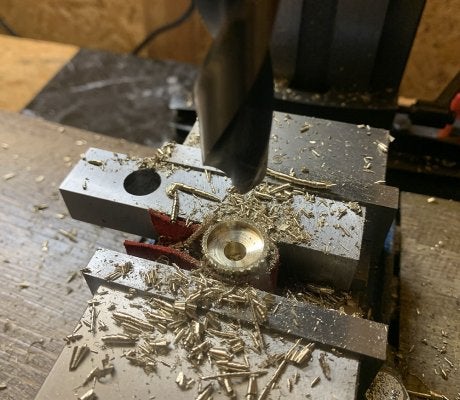 Next, it goes back into the 3/4 collet to round off the bottom. (Yes it's crooked, I had already finished it and decided I should document this step too).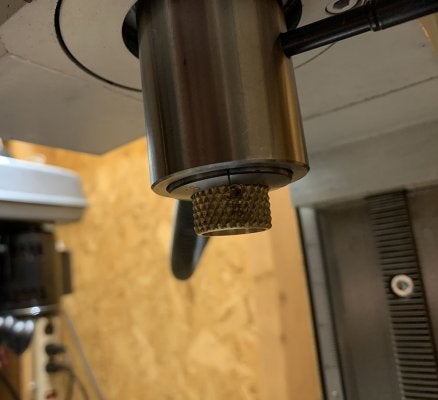 It goes back into the vise for the set screw hole where it gets drilled and then taped.
Now, we have a finished knob.
After I clean out all the chips and give a wipe down the mineral spirits, I can let it into the house for the next part of the process.