Joined

Dec 30, 2018
Posts

627
Location
I'm doing a body for a guy, someone else will do the neck. It's his own design based on/ inspired by an early Les Paul Junior, so flat slab body, angled glued-in neck, full width tenon. It'll have a wraparound bridge like they came out originally (so neck angle will be something like 2.5 -3 deg).
Juniors have full width tenons which arguably contributes to the tone but def simplifies the build (compared to the smaller joint of a LP).
My question is around the mortise/ tenon detail which I can spec.
Here's the body, but don't mind the tenon/ mortise detail, that'll change.
I'm keen to do a mortise detail based on the Double Cut Junior with the tenon extending well into the body for good gluing surface. So there's no body wood on the treble side till the neck hits the body - like a Tele/ strat.
We've decided to do the mortise (body pocket) level, and sort the angle of the neck out on the tenon, but the basic principle as I see it in terms of height, (and here I'd like confirmation from you guys), is the edge of the fretboard should be level at the point where the neck hits the body on the bass side, which, as shown on the 2nd pic, is the 16th fret. The neck will then start sticking out above the body at the 2.5-3 deg up to the end of the fretboard. the rest of the tenon will be cut flush with the top of the body once glued in - like on a DC Junior.
Okay if that's in order, how deep do I make the neck pocket (mortise)? I can decided that, because the neck design will just follow whatever I decide?.Total body thickness is standard 1 3/4 inch. Obviously the pocket is normally much deeper than a Fender 0.65", but what would you recommend? Also I assume the mortise sides beyond the fretboard are just a straight line extension of whatever wedge the neck does i.e. nut width to 12th fret wdth to 22 fret wdth extended, correct?
Anything I've missed?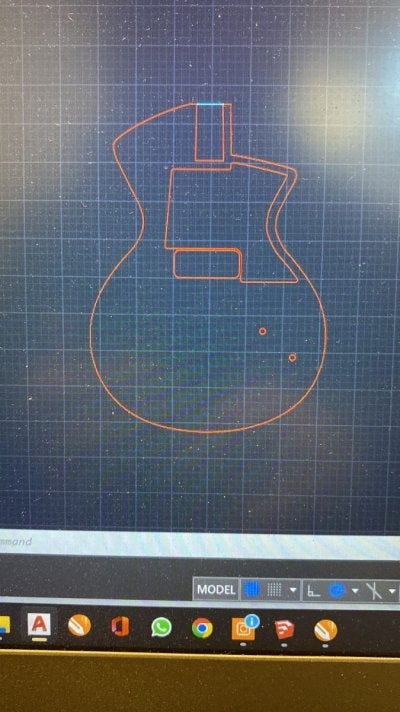 I'm