The MIJ Squier Strat feels/plays GREAT. I'm not thrilled with the way it sounds right now.
I can get nice enough sounds practicing, but in a band setting it's just lost in the mix, in
pretty much any setting. We play cumbia, latin-tinged rock and norteno. I play mainly
lead. The bridge sounds thin and the whole thing lacks oomph, sounds dead. My main
guitar is a tele (partscaster) -- unfortunately I don't know what the pickups in it are,
otherwise I'd buy similar sounding pickups to those. That guitar sounds alive, hot, it's
got girth. Also, the strat needs a Mint Green Guard. This is ~40+ years old so I don't
want to disassemble the stock PG assembly. So friends, let's get to work.
The PLAN: buy a loaded guard. Whatever it ends up being, I'm going to rewire for single
volume / single tone (duh -- tele guy). I'm patient, will wait for the right deal.
Here's a couple options. Initially, I'm thinking that Fat 50's may be a good fit.
Any thoughts appreciated. THANKS.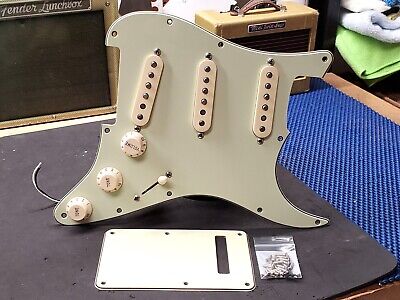 I think it looks very nice with the Aged White knobs and pickup covers. Used, but no functional issues with any of the wiring or other components. Ready to solder up, and drop in. Authentic Fender USA factory wired pickup assembly!
Bridge pickup: Yosemite Strat single coil – 9. Middle pickup: Yosemite Strat single coilRW/RP – 8.1. Neck pickup: Yosemite Strat single coil – 8. Genuine Fender USA in mint condition as pictured.
Last edited: