Poster Extraordinaire
Ad Free Member
Joined

Dec 29, 2012
Posts

8,529
Location
See https://robrobinette.com/RR2104_Master_Volume_Micro.htm for more info.
The JCM800 6V6 is a slightly modified JCM800 designed to fit into an easily sourced Princeton Reverb chassis. By design it can run 6V6, 5881, 6L6 and EL34 power tubes. Many people gig with Princeton Reverbs so here's a shredding machine in a Princeton Reverb package.

For the JCM800 6V6 I spec the AllenAmps.com TP25 power transformer and TO26 output transformer which also support 6L6 and EL34 power tubes.
Both of these transformers are
Princeton Reverb
upgrade transformers with a lot more oomph than stock transformers. They fit perfectly in the
Princeton Reverb
chassis. The preferred choke is the
Classictone 40-18032
5H 120ma. The bias circuit uses the power transformer's 50v tap and features bias balance and bias adjustment for 6V6, 6L6 and EL34 tubes. The power tube sockets are wired for EL34 compatibility.
Power output is around 22 watts with 6V6 power tubes and somewhere around 25 to 30 watts with 6L6 and EL34 power tubes. Output is limited due to output transformer saturation. A pair of 23 watt 5881 power tubes is also a great match for this amp.
We compensate for the different power tube plate load requirements by adjusting speaker load. For 6V6 power tubes we use an 8 ohm speaker with the 8 ohm speaker jack. For 6L6, 5881 and EL34 power tubes we connect an 8 ohm speaker to the 16 ohm speaker jack. The TO26 output transformer has both 8 and 16 ohm speaker outputs and I connected each to a separate speaker jack to make switching between tube types easy. Note that neither speaker jack has a shorting switch. Also note the NFB is tapped off the 8 ohm speaker jack.
If you don't need the 6L6/EL34 option then standard Princeton Reverb power and output transformers will work fine.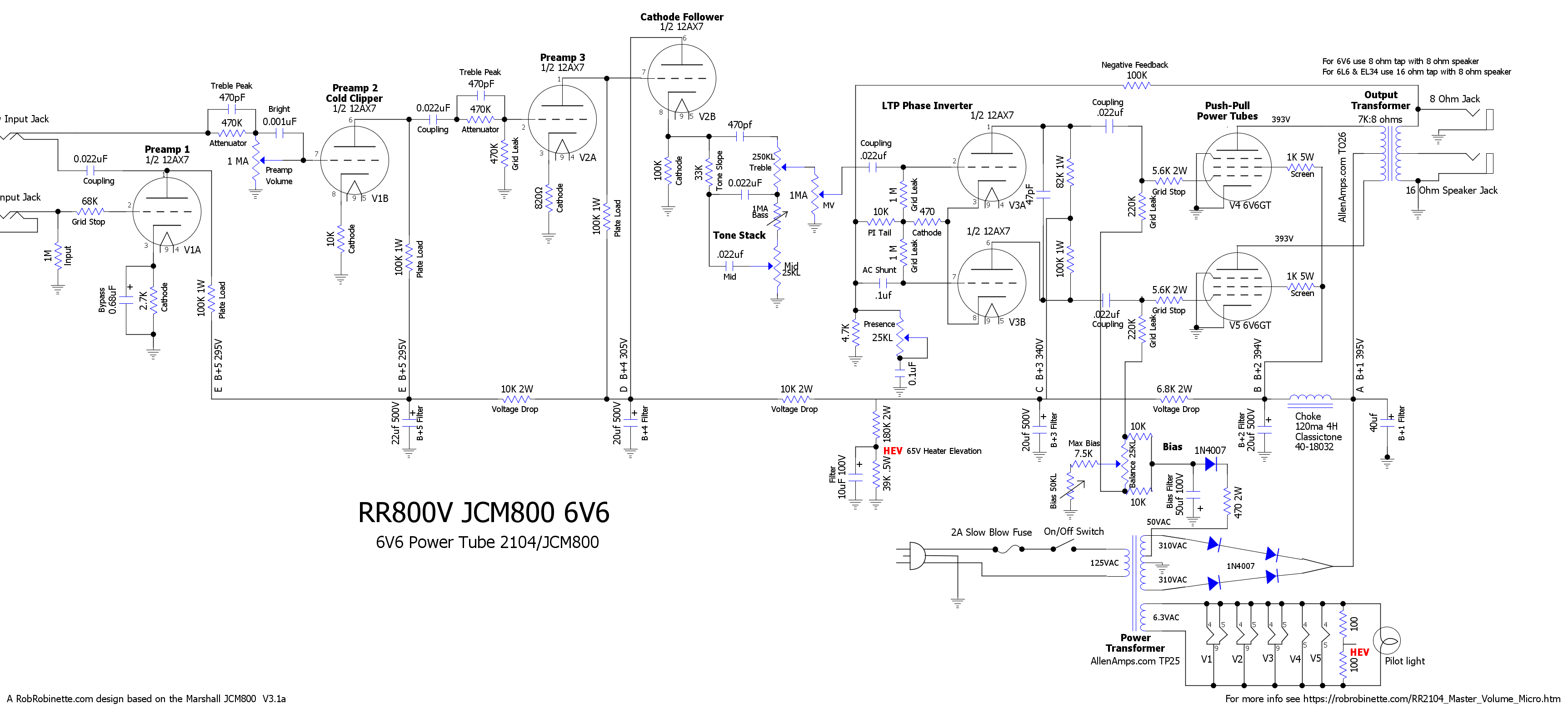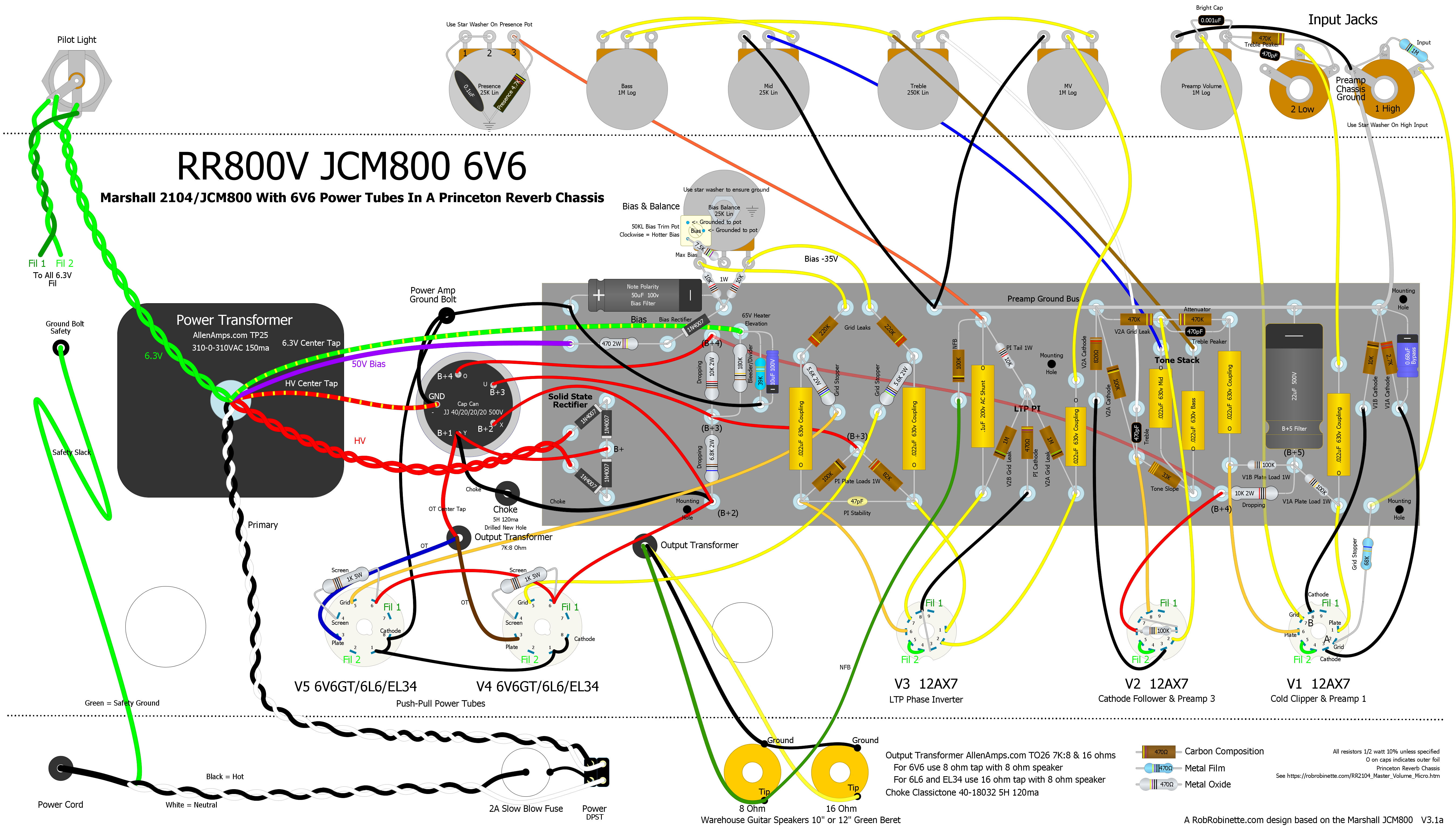 The cap can is a
JJ 40/20/20/20uF 500v can
. I sourced it and its clamp from
Mojotone.com
. The can's terminals are marked with Y, X, U, O and "-" stamped in the terminals. The Y terminal is 40uF and the X, U and O have 20uF. The "-" is the negative or ground terminal.
You can use a standard
Princeton Reverb size cab with either a 10" or 12" speaker
. Mojotone sells a nice
Princeton Reverb head cab
too.
Circuit Tweaks
I reduced the V1A (first preamp stage) .68uF cathode bypass cap to .47uF to deemphasize lows and low-mids. I replaced the 470k treble peaker attenuator resistor in front of the cold clipper with a 150k resistor for added preamp gain and less shrillness. I reduced the bright cap on the Preamp volume pot from 1000pf to 330pF to keep from thinning out the tone too much at low volume. Of course you can use the original amp values instead of my tweaks but these circuit changes are time proven mild tweaks that really do improve the amp's character.
The pre-phase inverter master volume is dropped in favor of a Trainwreck Type-3 post phase inverter master volume (PPIMV). This allows the phase inverter gain to contribute to the pre master volume distortion and makes the control more useful.
The NFB resistor stays at 100k because the drop in output voltage from 6V6 power tubes is perfectly offset by moving from a 4 ohm secondary tap to an 8 ohm.
A
JJ Princeton Reverb 40/20/20/20uF 500v cap can
is used for B+1 through B+4 and a 22uF 500v cap is placed on the circuit board for B+5.
The 0.47uF V1A cathode bypass cap does not need to be an electrolytic
. Any type of cap will work fine. I'm a fan of tantalum caps for .47uF and .68uF bypass caps. The bypass cap should be rated at 10 volts or higher.
The 6.3v heater center tap is elevated by connecting it to a Bleeder/Divider circuit at 65 volts. This heater elevation makes life much easier on the cathode follower and reduces heater hum (see layout above).
You can upload the
JCM800 6V6 Hoffman circuit board DIYLC file
to
Hoffmanamps.com
and Doug will make an eyelet or turret board for you. He can also populate the board for you if you'd like. The empty board with eyelets or turrets installed is $20 + shipping. I used to make my own turret boards but with HoffmanAmps.com accepting DIYLC files to make custom boards it's just too easy and inexpensive to bother with making them myself.
If your amp has stability and oscillation issues try chopsticking the amp's leads around. Try to separate the preamp plate and grid wires as much as you can. If you still have stability and oscillation issues, placing a 1000pf 600v+ ceramic disc cap across V1 (first preamp stage) pins 1 & 3 will help. This stability disc cap is present in many factory Master Volume/JCM800 amps.
Speaker Suggestions
An 8 ohm speaker is preferred
because it makes it easy to switch between 6V6 and 6L6/EL34 tubes. For 6V6 tubes connect the 8 ohm speaker to the 8 ohm speaker jack. For 6L6, 5881 or EL34 tubes connect the 8 ohm speaker to the 16 ohm speaker jack.
I'm not a fan of the Celestion G12T-75. I prefer the standard
Celestion G12M Greenback
for Marshall closed back cabs but
for a JCM800 6V6 combo cab my recommendation is the Warehouse Guitar Speakers Green Beret in 10 or 12 inch
. I prefer the 10 inch speaker for
Princeton Reverb
cabs. If you want a 12" speaker in a
Princeton Reverb
cab consider enlarging the cab. Adding two inches to the cab's height will allow a 12 inch speaker to breathe and not sound so boxy. Most cab makers will customize their cabs if you ask. The
Celestion Classic Lead
is also a good speaker choice. I recommend the
Celestion Vintage 30
if you like a slightly darker tone.
To summarize the parts sources I used: I purchased the
Princeton Reverb
chassis, cab and most parts from
Mojotone.com
. The power and output transformers came direct from
AllenAmps.com
. I purchased the
Classictone
choke from
AmplifiedPartsDirect.com
. Doug Hoffman at
HoffmanAmps.com
can supply the turret or eyelet board.
See https://robrobinette.com/RR2104_Master_Volume_Micro.htm for more info.

I also have a 1 watt JCM800 Micro that is also designed for the Princeton Reverb chassis and cab.
Last edited: