Joined

Jun 25, 2003
Posts

1,927
Location
First things first: These things look horrible on my Gibson's moustache bridge.
Now for the rest of the story.
(All picture placed at the end.)
I bought my 1998 Gibson CL-30 as new old stock in September 2002. It's been my primary acoustic every since and only stays at home if I'm going to a bonfire, picnic on a hot day, in the sand at the beach, etc.
Over the last several years I've had an ongoing issue with the bridge pins lifting which causes the strings to not stay in tune, and can make playing uncomfortable as I do a lot of string muting or resting my palm just behind the bridge for finger or flat picking. About two years ago I brought the guitar to a tech on recommendation of a good friend to check it out. He basically went through a bunch of bridge pins he had in his shop and found a set that worked better. But that only lasted for two string changes and then the pins started lifting again. In hindsight, he's got a great reputation with electric guitars but I should have gone elsewhere for the acoustic.
The couple of well regarded acoustic luthiers near me have a waiting list at the moment, and I would have to be without the guitar for possibly a couple of weeks even once my slot opened up for them to work on it. So in the meantime I decided to try out the Power Pins from Bigrock Innovations (
http://powerpins.net/
). A simple explanation is that these change a traditional acoustic bridge into a top loading bridge using metal inserts into the bridge pin holes.
Installation: Not too difficult to install although my hand needed a rest at times from being contorted into the sound hole to line up and tighten down the Power Pins. I'd hate to have to do this on a guitar with a smaller sound hole. But, the process itself was easy; just tight access. And there is no question that replacing strings will be much easier in the future. That may not be a big deal if replacing a whole set but would come in handy if just replacing a single broken string in the middle of playing.
Sound: Well since I replaced five month old strings with new strings at the same time as replacing the bridge pins it's hard to say exactly. But it seems like there is a bit more zing to the top end. Kind of like turning up the Presence control on an amp where you don't lose the bass or mid range but get a little more sparkle throughout. I do tend to keep my strings on the guitar longer than some people would - I like the mellowness of older strings so long as they stay in tune. If I think about it, maybe I'll come back here and update my impressions after a few months. So far I've played a couple hours at home and did a four song set at an open mic on Monday night. Tuning has remained spot on after the first day.
Playability: It feels as though there is less tension on the strings. This is likely due to reduced break angle over the saddle. There are some reviews complaining that the reduced angle caused problems on some guitars, and some not even able to use the Power Pins due to the saddle height being very low to being with. I can definitely see how that could be a problem in some instances. But it's not an issue on my Gibson. There are no buzzes or string moving over the saddle. And I enjoy strumming the heck out of my guitars. Using a capo has actually resulted in less need to tweak the tuning all the way up to the 7th fret. Intonation has not changed at all.
Final Impression: For the reasons that I tried the Power Pins, I am very satisfied. Maybe someplace down the line I'll have a luthier look at the guitar about doing a proper fix. But for now and the foreseeable future the Power Pins are doing the job for me. There is some marketing copy and reviews that say the Power Pins improve the sound of a guitar. Do they? I'm guessing that would depend on the particular guitar and personal taste. It would be interesting to try these on my inexpensive Seagull but that's way more hassle than I'll ever go through.
Now if they only didn't look so dang ugly on my guitar.
Guitar strung up with PowerPins installed. I got gold because it has gold tuning pegs. Maybe black would have been a tiny bit more subtle.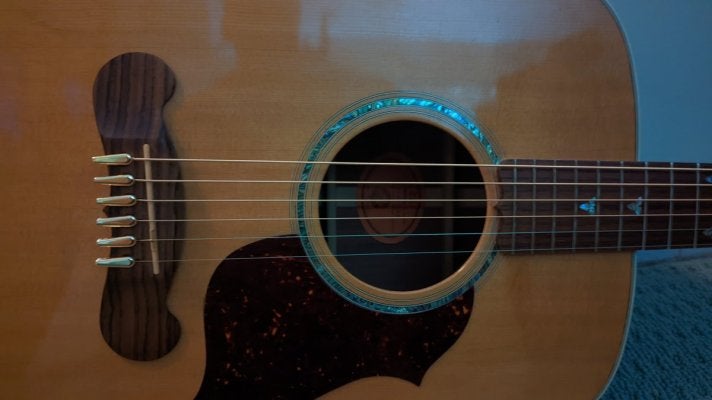 Lifting up of bridge pins. Low E was the worst offender but A and B also have problems. D is just starting to show the issue, too.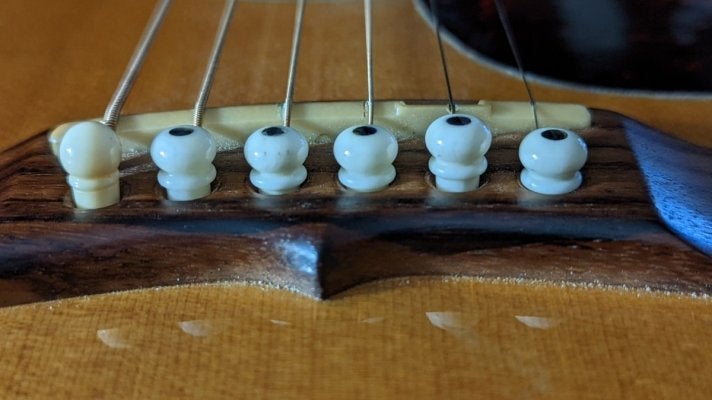 The underside of the bridge plate before removing strings. You can clearly see the issue here (Low E on the right). This is why I am unhappy with the guitar tech who looked at the guitar two years ago. Since he missed this, I'm glad I didn't ask him to do any additional work on the instrument. Looking at this, I wonder if non-slotted pins would help but that would likely still be a temporary solution.
Underside of the bridge plate with strings removed. Notice that there is a slight curve to the holes from underneath but they are in a straight line from the top. That's just how Gibson made it, and probably on purpose. I just found it interesting.
The underside of the Power Pins after install. The plate helps protect the wooden bridge plate. There are multiple washers with the kit to adjust for different total thicknesses of different guitars.
And the pins from the top side after installation. They might not look so terrible on a straight sided bridge but OMG! do they stick out like six sore thumbs on my curved moustache bridge.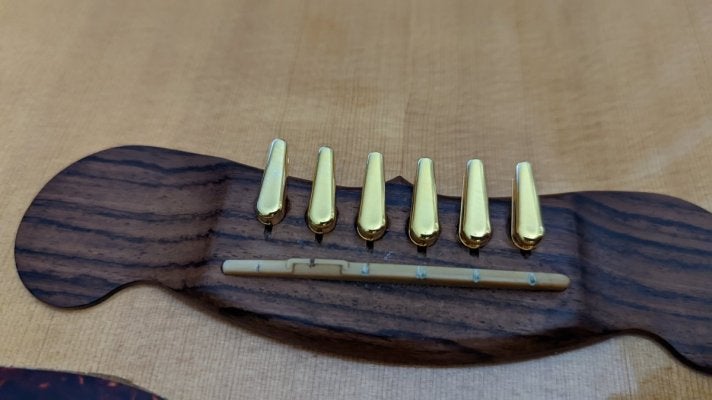 Last edited: