Friend of Leo's
Silver Supporter
Joined

Feb 6, 2018
Posts

3,531
Age

57
Location
There have been previous threads about the new 1099K IRS reporting requirements for sales on Reverb, eBay, etc. This is not a general rant, I have a specific question:
Has anyone figured out how to handle this on your income tax form?
Brief background: Starting this year, if you have sales totaling more than $600, Reverb or other similar sites issue an IRS form 1099K to report the income. Obviously none of us want to pay taxes on selling some used guitar. It's not "income" - we had to spend money to buy it in the first place. Fortunately, it looks like we will
not
have to pay taxes on that. Here is what Reverb says on the website:
"Receiving a 1099-K from Reverb doesn't mean you'll have to pay income tax on what you've sold. We're required to issue 1099-Ks to every US seller who meets the federal or state threshold, but everyone's tax situation is different. For example, say a Reverber bought a guitar for $1,600 in 2019 and sold it for $1,000 in 2021. Reverb would still have to report the $1,000 payment on a 1099-K, but the seller would have no taxable income on this transaction to report since the resale amount was less than the original purchase price."
There have been countless news articles written about this, and they all say the same thing. A few examples:
So far so good. But Reverb or eBay will still send you a 1099K form that reports the sale as income. And there is NO PLACE on that form, or anywhere on the primary 1040 tax form as far as I can tell, for you to enter the offsetting cost of the item to show you did not make a profit. Here is the 1099K form: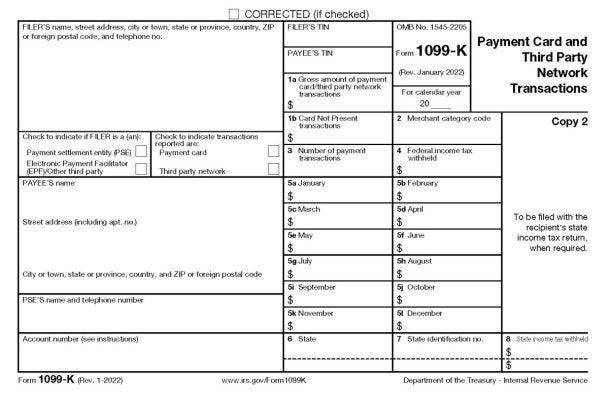 Using the example above from Reverb, let's say I bought a guitar for $1,600 and sold it for $1,000. Reverb issues a 1099K form reporting the $1,000 gross income. Let's say I still have the original receipt for $1,600. What do I do with it? I can find NO PLACE on any of these tax forms to enter that information.
Has anyone solved this?
Please don't say "hire an accountant." That would cost more than the amount at stake here. This is an issue that will potentially affect a great number of us. Someone here must know how to handle it. Thanks for any helpful info!!!