Joined

Jul 15, 2019
Posts

540
Location
Hi,
I'm looking for a little help, does anyone know the closest I can get to a Gibson 498T pickup but in a standard tele bridge configuration? Stack/hot rails etc.
I know there's a thousand variables, and it's not going to sound spot on. But recently I've been playing an Epi dot Es335 in the band, because it cuts through the mix, while my tele 12 gets too lost. So I'm interested in trying a humbucker in the bridge to see if I can cut through with the 12 and just to hear what happens really. The 12 string IS a better sounding guitar, it just get's a little lost live.
I wired the control panel in with a screw junction for the pickups, so it's abit no harm no foul if that makes sense. The alternative would be the get the router out again and stick a third pickup in, a little like Jack Whites 3 wheel motion tele. Tempting.
I know I know... pics! She's been through quite a few changes now. Currently, creamery Ric 63 in the neck, and Q pickups esquire in the bridge, 5 way switching, 250k volume, 500k tone, both concentric. Oh and an onboard squishy octopus compressor.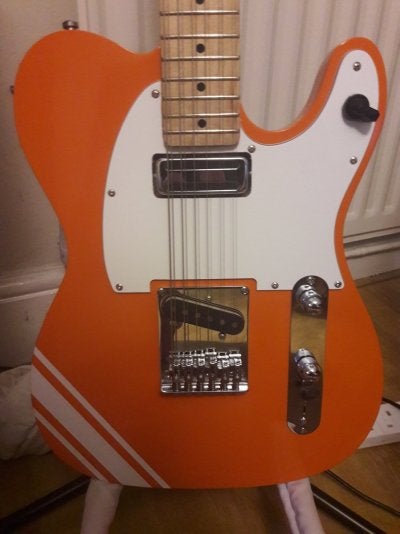 Last edited: