Joined

Oct 17, 2013
Posts

107
Location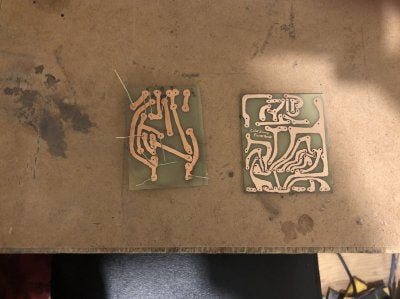 Built a fuzz face a while back. It's silicon using bc108s. I first built using components I had lying around. Worked well enough, except at the very end of the fuzz pot sweep. Right as it hits 100% it changes to a harsh hissing fuzz. This is a small problem as the fuzz sounds great up till that point. I'd be content to just live with it like this, except I can't help feel like I've done something wrong somehow.
In an effort to trouble shoot, I ordered a silicon fuzz face component kit and came across fuzz face pots from someone local in town. I've even changed the transistors out for other bc108s bc109s and a few others with no change. I had added a trim pots in place of a few resistors to try to bias the transistors a little better. No change again. The circuit board, being very basic, I hand etched myself. I wondered if I had screwed that up somehow but I've gone over it and over it and all the paths are clean. Nothing accidentally connected.
I've never actually owned a fuzz face before. Does the fuzz really go a little crazy at the end of the sweap?
Is this an issue anyone else has had before?
sorry I only have these two pictures right now. I'll add more when I get home. The first one as the etched board on the left. The right one was a colorsound power boost which worked perfect.
Can I add a sound clip here? I've never done that before. I can try a YouTube video if need be.
Thanks for any help! You folks have always been great!