Hi everyone,
I'm a longtime lurker, especially lately as I've been drawing on everyone's experience to help with my first amp build.
I have some experience with
DIY hi-fi electronics
, but this is my first time building a guitar amp. I decided to make two at once: one for me and one for my friend and bandmate. To call our thing "band" is probably a bit too fancy: we hang out twice and week and play Neil Young covers, calling ourselves "Slow Pony" as a pun on Crazy Horse. Since we play without a drummer or with quiet drums, we don't need much volume, and struggle to get even our lower-powered Princetons and 5E3s into a nice breakup — so the 4-watt EF80 Micro Bassman by
@robrob
seemed absolutely perfect for our needs. I call my version of the Micro Bassman the "Low Pony," another pun on our band name, and also on "Bassman" ("bass" becomes "low," "man" becomes "pony," its micro equine equivalent).
And to jump ahead a bit — WOW! It's PERFECT for our needs and sounds INCREDIBLE! Having played guitar for many many years and played through a lot of amps — I have to say, these Low Ponies are the best sounding and most useable amps I've ever heard!
I decided to go with
@robrob's "56FA-EF80 Bassman Micro LTP EF80 MV" design
with the Lar-Mar/Type-2 master volume.
I then followed the implementation of the "raw mid" pot by
@King Fan
in
this thread
— although I late found that implementation didn't quite work for me (more below).
I used a Marshall 18 watt chassis and used the extra holes around back to add a few things: added a 4/8 ohm impedance selector and a 3-way NFB selector, using Rob's suggested 15K value and adding a 5.25K option (2.8x less)... though again, see more below.
Here are some shots of my build. As you can see, I went a bit crazy with cute details, like the sparkly plexiglass boards, and all the silkscreening everywhere (I spent more time on silk screening and case design than anything else!).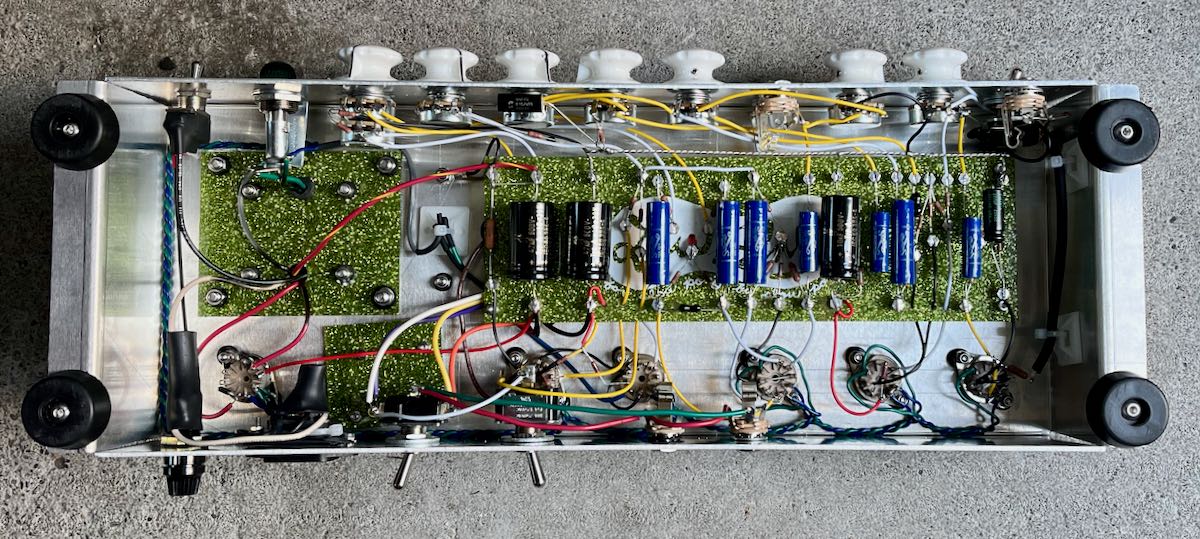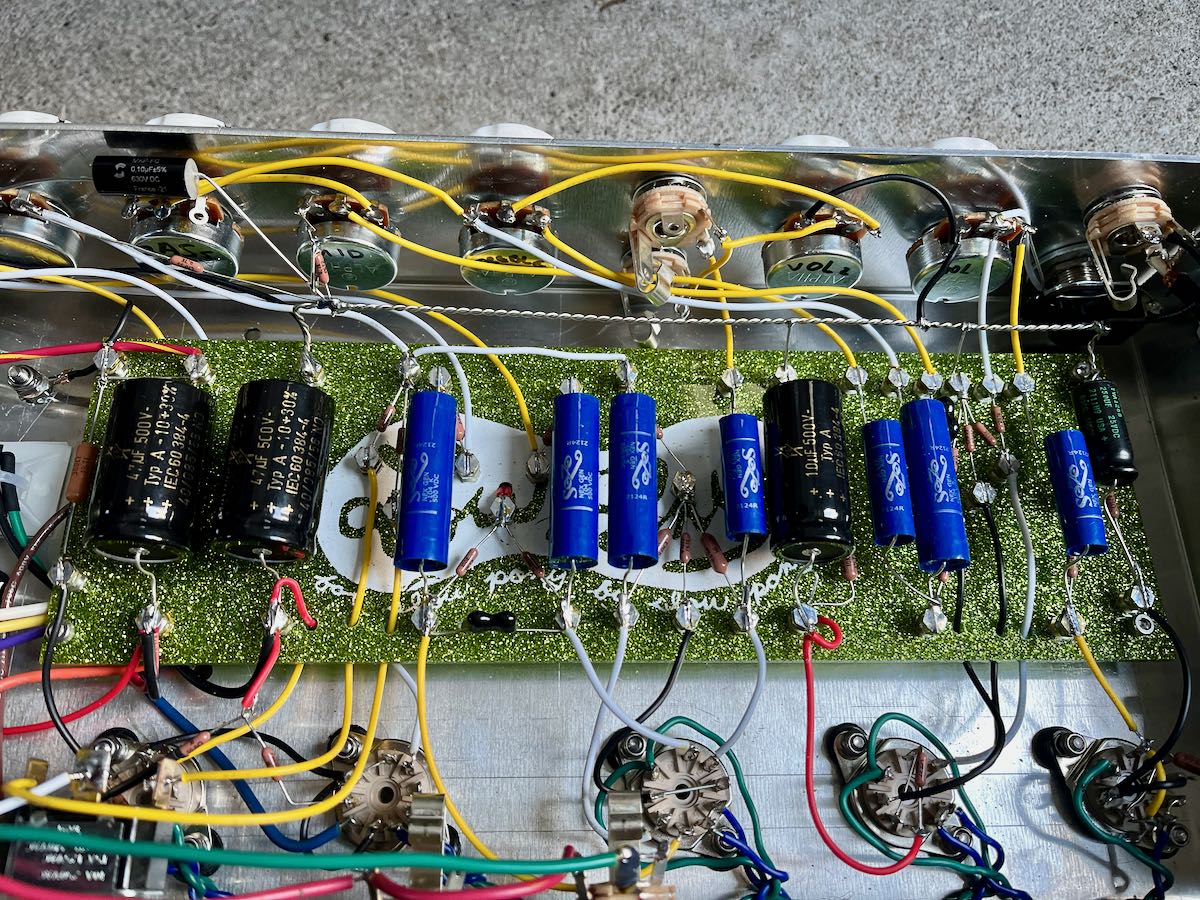 When I powered up, everything sounded great (shockingly great, even?)... but two knobs weren't working as expected.
The first was the raw/mid knob (100K audio taper pot substituted for the normal mids pot). Turning it up all the way didn't entirely remove the tone stack as intended. I thought about this some more... and obviously in retrospect, that's because
@King Fan
used a "tail resistor" in his implementation (see layout diagram
here
), which meant the raw/mid wouldn't even entirely dial out the tone stack. So I just linked around it (see above, if you have eagle eyes!) and it solved it. I'll go back and make it pretty when I solve the one remaining issue...
Namely: it still seems like my bass control isn't working. At least, I can't hear it doing anything. It's now built exactly like @King Fan's layout above, except without the tail resistor from the raw/mid pot. It's also exactly like @robrob's original layout, if you sub in a 100KA mid pot. Maybe the bass knob is just really subtle? (Note that I put my bass knob physically next to the presence pot, so that it would go in order, treble, mid, bass.)
The other thing of note: I felt like the 15K/5.25K NFB options were a bit too much NFB. So I attached them to the 4 ohm rather than the 8 ohm tap, which reduced their effect a bit, and lands me in a nice sweet spot. The Presence knob is really useful in both positions.
I had local hero Derrick Bell of Veteran Guitar Cabinets make me beautiful matching cabinets for the two builds, both with slanted vertical 2x12s closed back speaker cabs. One is loaded with a vintage P12Q and a vintage C12N, and it sounds great... but the REALLY great sounding cab has two Celestion Century Vintage, a speaker I love and stockpiled when they were discontinued and being blown out. They're a PERFECT match for this amp: loud enough to make 4 watts sound like 15 when needed, with lots of low end too, and with a delicate softness reminiscent of vintage alnico speakers. I'm going to swap two more Century Vintages from my stash into the other cab.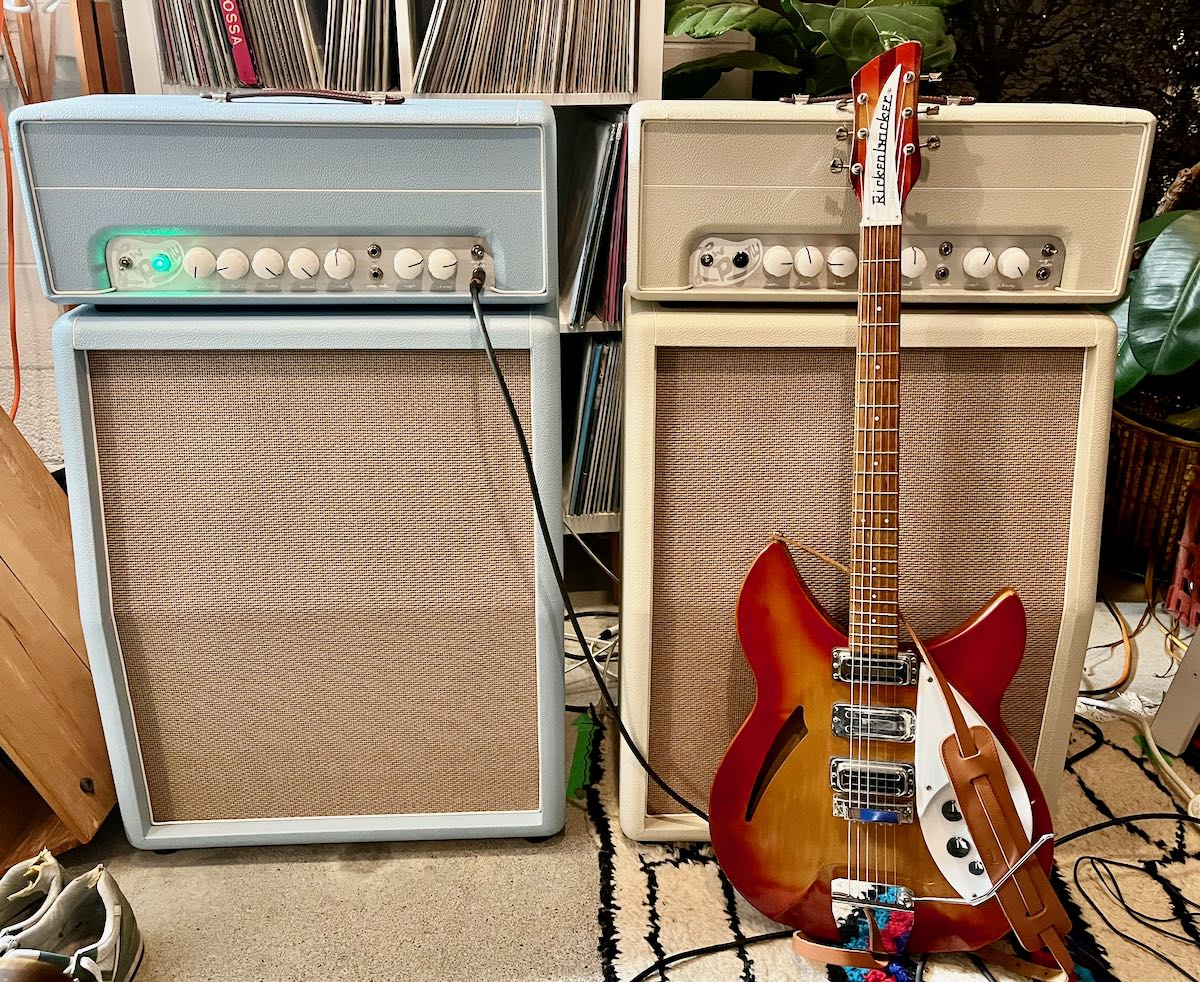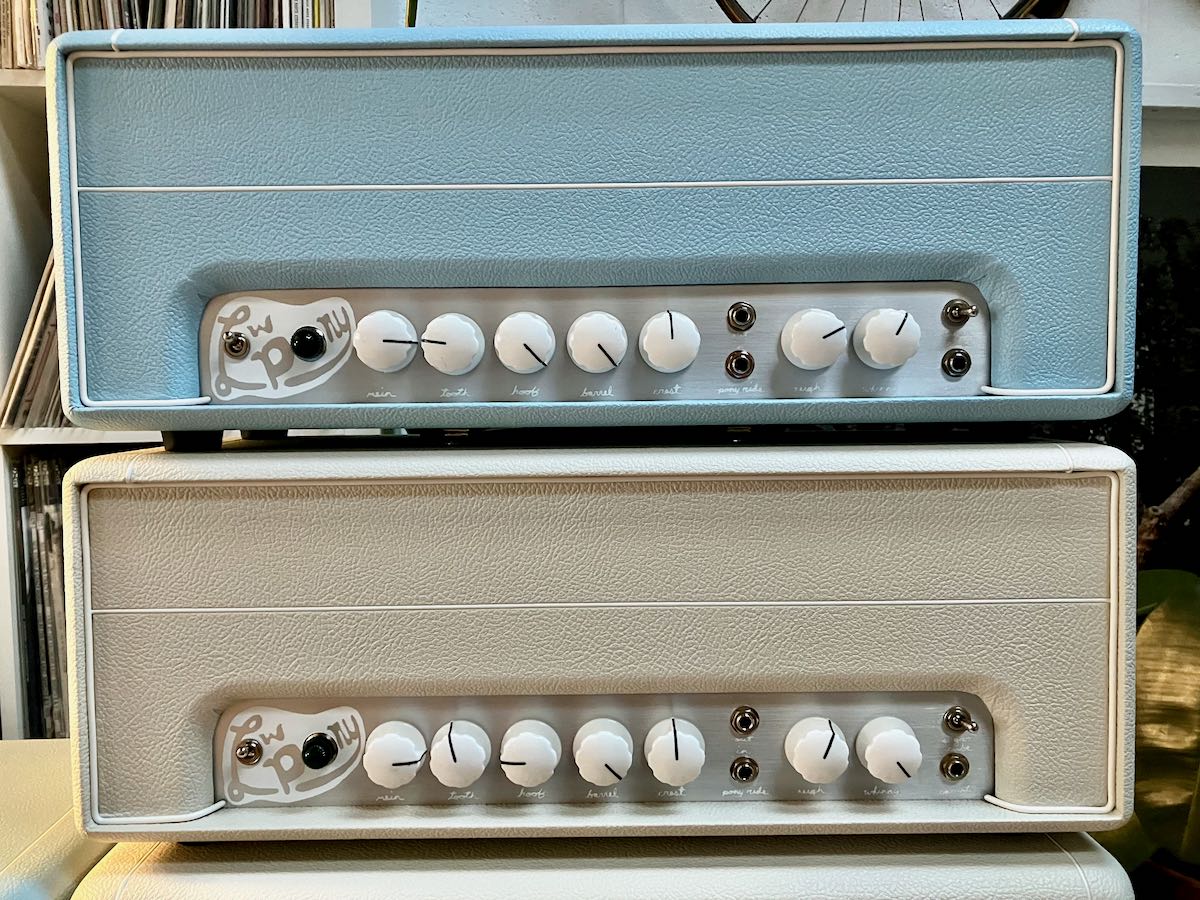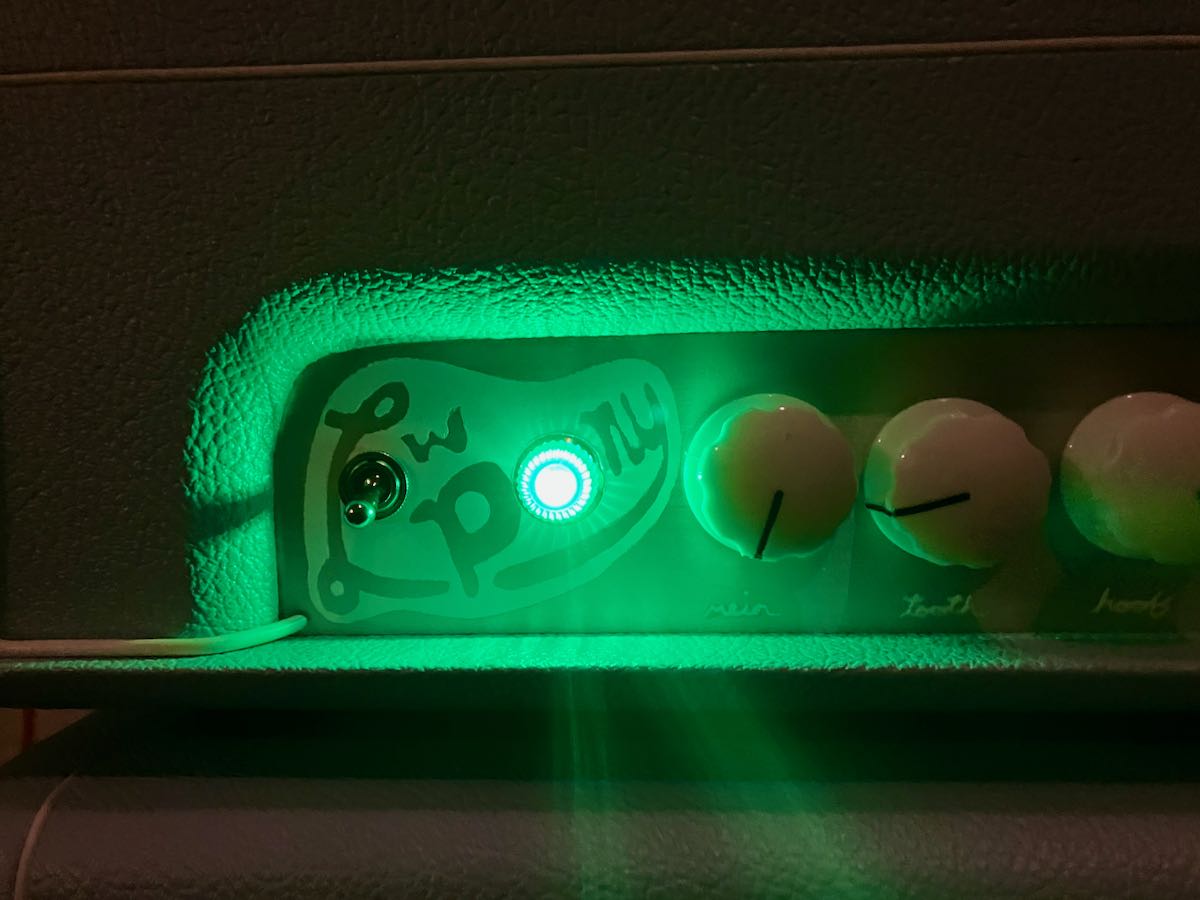 For those interested in HEARING the amps... here are two iPhone recordings that I think capture something of their beautiful voice.
Here's my 1966 Rickenbacker 330 mutt
, running into the cab with the vintage Jensens, with a Surfybear Surfytrem adding a bit of harmonic vibrato (this is the very first recording I made of the Low Pony!).
And
here's my 1958 Gretsch Country Club
running into the Century Vintage cab through a Diamond Marquis treble booster and a Memory Lane Jr. delay, doing a crunchy ominous David Lynchy kind off thing.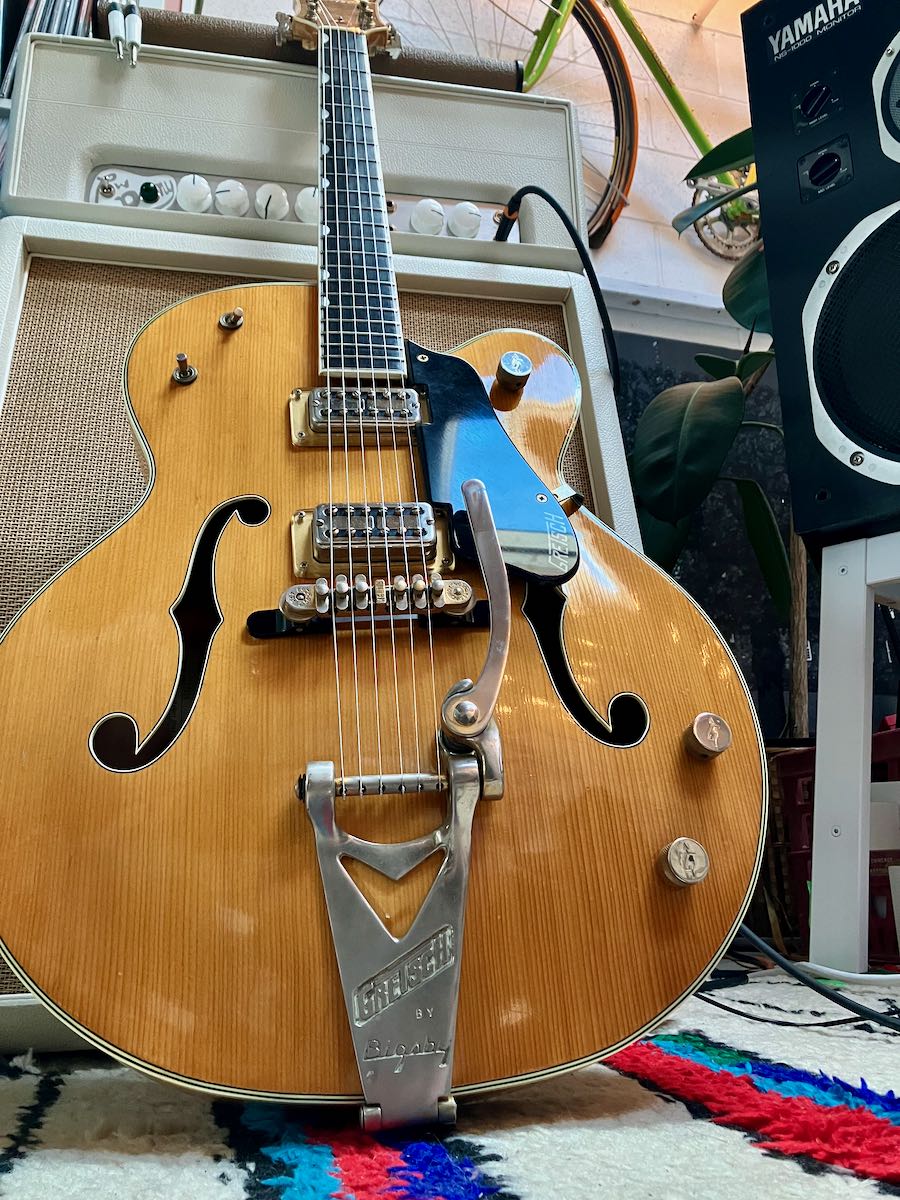 It's worth noting that these amps TAKE PEDALS VERY WELL, including boost pedals. There's quite a bit of headroom in that V1 preamp (I prefer the 12AU7, but haven't experimented all that much with a 12AX7 in V1).
THANK YOU TO @robrob for designing this incredible amp, for sharing his design, and for documenting it so beautifully!! It made this first build a real pleasure!!
Last edited: