Hey all!
I went through the ringing on this one, but I have a finished Telecaster, and it is EVERYTHING...
The specs: Novak hum canceled tele bridge, stock middle (originally the neck)/Novak Jazzmaster neck, Mastery vibrato (that word always auto-corrects to vibrator - and I chuckle every time), Mastery Bridge and plate, 3-way switch, STEREO output (what? more on that below), split/dual single-knob pots for neck/bridge.
The base guitar: This started as one of those new Telecaster Player Series guitars, and I made a routing template, and turned it into a custom Tele/JM hybrid with quality hardware and pickups.
The ins-and-outs:
Electronics — I originally wanted a tone switch, but abandoned that because I couldn't make it work right. I finally found some single knob dual pots - 500k/250k - and by wiring the pickups right to the pots, then into the switch and then to output, I'm able to have the neck at 500k and the bridge at 250k, and have the tone and everything work separately for each pickup set. The pots were from here:
https://darrenriley.com/store/fender-dual-500k-250k-solid-shaft-pot-7708796000/
Pickups — The bridge is a Novak hum canceled pickup. It had problems initially, and he replaced it (cause he's awesome), and it sounds amazing - great bass response, clear highs, not too bright - just awesome. The middle and neck are actually wired in as one hum canceled pickup (so think of the guitar as a 2-pickup guitar, even though there are 3 there). I wanted a setup that would tame the brightness of the JM pup, but fatten the sound of the tele neck pup, and that combo achieves it - it's got a really big sound.
Switch — it's a standard 3-way tele switch, BUT... did you know that when you're in the neck position, the bridge isn't doing anything? Seems obvious, but you CAN utilize it if you wire the empty bridge position to the ring on a stereo jack... and then, you can use microphone cable to make a stereo cable for your guitar, and THEN you can send separate pickup signals to separate amps. Why? well... why not? You can get some intense, individual sounds out of 2 amps with one guitar without using a splitter. OR, you can just use a mono cable, and it works just the same as a mono guitar. So in position 1, it's bridge, position 2 is bridge/neck (not my favorite mix, i'll be honest, but I've already found use for it), position 3 is neck OR stereo L: neck, R: bridge.
Vibrato — The mastery vibrato is no joke, and it has the price tag to prove it. However, my jazzmasters with the fender brand vibrato cannot dive as low as this one - not even close, actually. I'm able to bend down almost a full octave with the mastery, and can't come anywhere close on the fender versions. The mastery doesn't have the locking system, which I like because I use a lot of alternate tunings, but I'll live...
Bridge — the JM mastery bridge is the jam, simple as that. It's on all my JMs, and I'd never use anything else.
Pickguard — I'd never routed a pickguard, and tele guards are cheap at Warmoth with a pre-routed middle, so I still have the original guard, and while not perfect, the JM route is close enough for my liking.
The cost? well... for everything after discounts and some shopping around, it was about the cost of a base american tele without any discounts or modifications (maybe a touch more, but not much).
The verdict? well... the guitar and I are still getting to know one another, but it's currently the only guitar I grab from my arsenal to play lately, so that says good things of our relationship to come...
Here's some along-the-way pics, starting with the original config, my homemade pickguard and guitar routing templates, and then prepping the new routes for pups: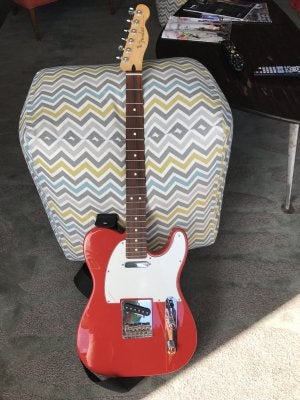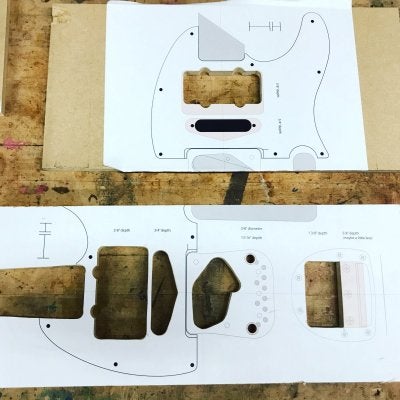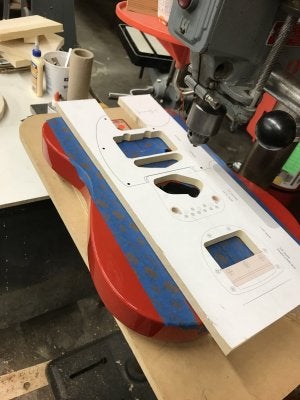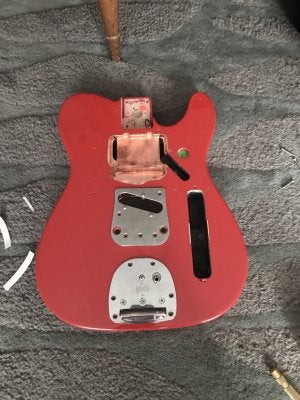 Many of you all helped me figure some stuff out with this one, and I thank you for that... This was a labor of love, and I appreciate you all being patient while I worked through it. Happy to talk through any of it if you have questions on my mad-science guitar...
Until the next one... CHEERS!