Joined

Sep 15, 2008
Posts

102
Location
>>> judge bribe here <<<
JUDGES!! - Here's my
BeDazzling
bribe.
I really don't much concern myself with winning, actually. If, however, TDPRI acknowledges and figures out a reason to buy my challenge-built guitar for that $100 as put forth, I will select one of the judges to receive this BeDazzled one-of-a-kind guitar strap. :!:
W W L D = What Would Leo Do? - Vote for me??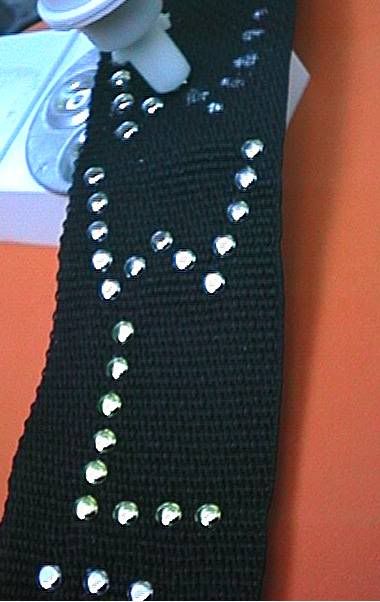 The big "F" and the "L" are in gold-tone studs, and the rest are silvery. The Be-Dazzler is actually a piece of junk, but I set each stud and bent the prongs with hemostats, and then used the plastic-fantastic thingie to smash them all down onto a 2" wide black nylon guitar strap.
If this encourages a judge to advocate that my axe be purchased, I'll be melancholy, but not forlorn. I have had an incredible ride - from rainy-day jacuzzi step to short-scale T-style.
Rules for my judge selection are as follows. I will randomly assign each judge a number from 1 to 5. I will roll a single die, and if it doesn't come up 6, that judge wins the strap. If 6 is up, I'll re-roll; it's that simple. After I receive the C-note, I'll notify the selected judge by email, obtain a mailing address, and mail the strap.
It's truly a labor of love (and the best I could come up with for a bribe). You won't get THIS strap offa eBay, for sure.
Vote for me!
Vote for me!
(Auction the guitar, or give IT away too, if ya' wanna')
Last edited: