Joined

Sep 15, 2008
Posts

102
Location
Spa-Caster - TDPRI $100 Telecaster Challenge
"Rule 3. Parts can be new or used but must be valued reasonably. Wood costs need not be included." I'm not employed, so the wood MUST already be around here somewhere, hmm. I stared at the broken-down fiberglass spa during the morning rain and thought, 'Hey those old wooden steps might become a guitar body!' Those 2x10s used to be my water-bed frame in the mid-70s.
"Then the rain let up and the sun came up, And we were gettin' dry...."
sang Van Morrison. So I busted the steps apart with a clawhammer, and selected the wood for the body of my 'Spa-Caster'. By then, the top was kinda dry, and the spider-webby, dry-rotty bottom was, well, still iffy.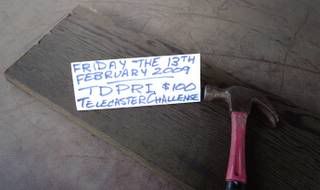 "Stoned me just like jelly roll"​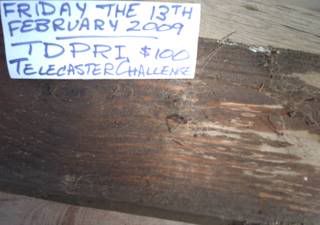 So, by starting this thread, I'm *jumping right in*. With apologies to Van,
"We looked at the swim and we jumped right in, Not to mention single-poles".