Joined

Oct 18, 2007
Posts

999
Location
TDPRI $100 Telecaster Challenge - Ketchup Caster
I'm in - although I must certainly be daft! I am but a rookie and wholeheartedly subscribe to the measure once, cut twice mantra; I may at least may provide some comic relief. I have a few hand power tools, so must rely on the help of friends with real tools, like table saw, band saw, router, etc.
I do, however, have a nice big hunk of Ash that I bought about 9 months ago, right after finishing my only other build. There's enough in the two 4 ft. by 10 1/2 inch boards to get about four bodies! You may recall that I built a maple-centered, cedar topped Tele with the help of a boat-builder friend. I had hoped he and I would build lots of bodies, and get pretty good at this game. Unfortunately, he has been very heavily occupied with other tasks ... so Tele building has suffered. This challenge provided me the impetus to have a go more on my own!
I'll keep it simple and inexpensive and build a rear-mount esquire with no pickguard. Here goes with the pic of the bottom part of the ash boards that I'll use for this one: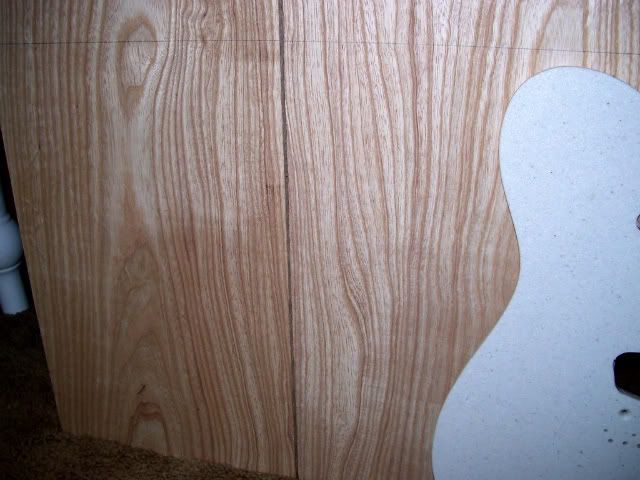 Here's the obligatory entry shot - written on the envelope from the Valentine's Card from my wife - which is why my name is in reasonable adult looking writing, and the rest is a scrawl!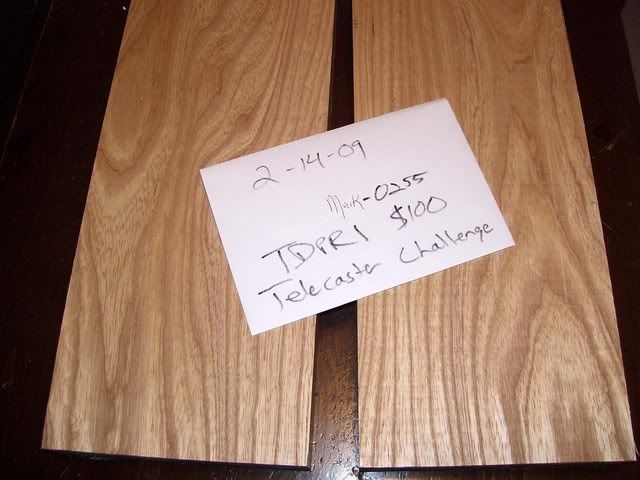 On to the next post ...