Joined

Mar 9, 2023
Posts

32
Age

38
Location
Hello, I put here my 5F2 clone building advancement.
I bought a kit from Tube-Town, which is not very expensive and give a lot of stuff (screw, etc, etc). I changed carbon film-resistor and mallory capacitor of the kit by carbon comp and jupiter capacitor for a little "mojo" tone (not very expensive too by the feww component in the amp).
The kit from tube town have a nice quality solder board, with a ground bus, and it is similar to the 5F1.
The schematic is a little different of the others kit, as TAD for exemple there is no choke and only 15-10-10 capacitor.
The main power supply in the kit is not the 5e3-vpo of the schematic but the Hammond 291AEX which have choice 275-0-275 VAC secondary voltage that I will use.
The vaccum tube are a Sovtek 5Y3GT (a special tube who do not look like than any other tube, indirect heated and have a little drop voltage 18V in 100mA) , a JJ 6V6S and JJ ECC83S.
On the schematic below I added a backup rectifier diode on the pin 4 & 6 of the 5Y3GT (I have NOS 5W4GT - a low power 5Y3- that maybe I use instead)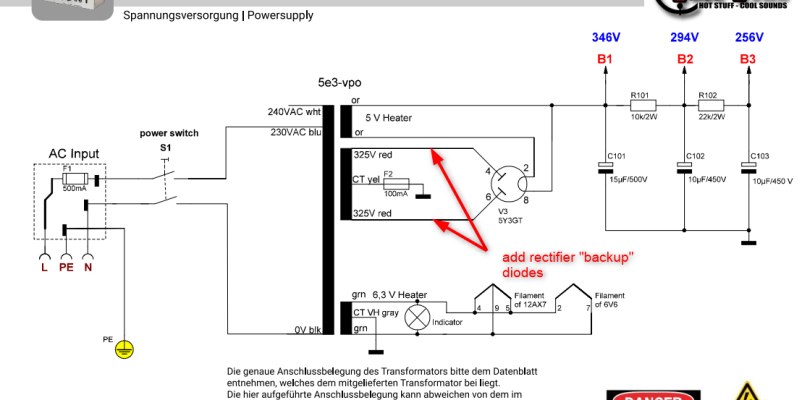 And I add also a SPDT switch for the primary output transformer impedance (5K or 8K) and a second jack for a 16 ohm speaker.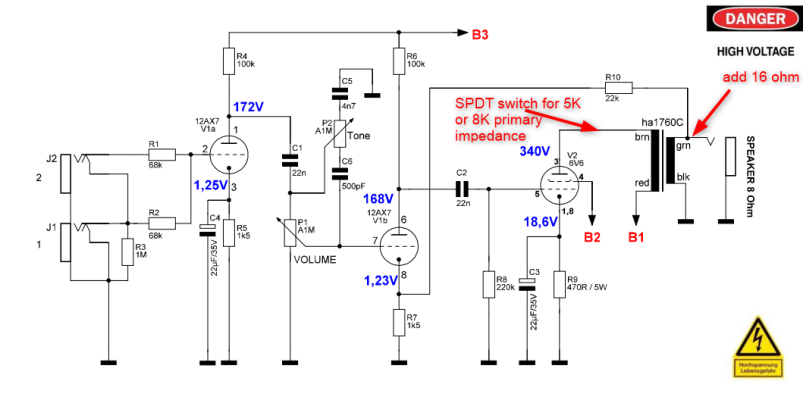 Indeed I bought a pin cab on Tube-Town, Tolex it with "tweed vinyl" Tolex (not real tweed but very nice) and installed inthere a WGS G12Q 12" 20W.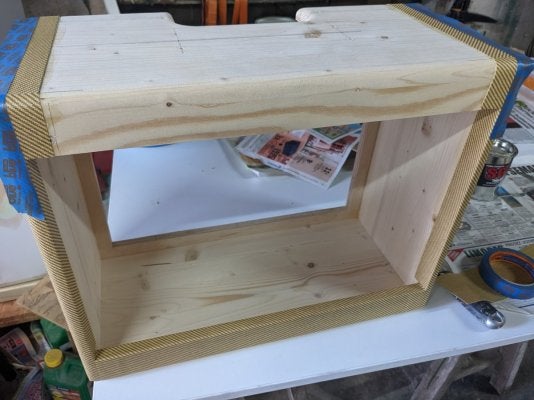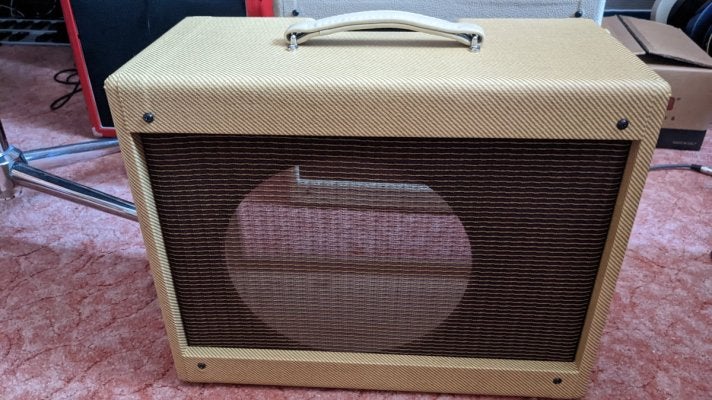 So after making the cabinet, I started to solder component and I just finish the board today
The chassis is very tight and it is a hard challenge too place all the wire, specially the multiple useless wire of the main power transformer !!
That's it for now !