A quick background: I began fiddling around with guitar building/finishing in 2010. My previous expertise was audio recording, so I spent most of my early years focused on my recording studio and video editing. I never was, nor never profess to be any kind of woodworker, craftsman or luthier. It just wasn't around when I was growing up. My Dad's line of work was sales. He provided an excellent living for his family, but "handyman" was not in his repertoire. Either it was fixed with duct tape, not fixed at all or we called the professionals. I never learned the basics of woodworking or finishing. I couldn't even screw two boards together properly when I started. All of my knowledge has come from experience, books, how-to's, forums and incessantly nagging guitar builders (some of which have been kind enough to let me bend their ears quite a bit). So, that being said, I've come a long way in my expertise, but I still feel like a babe in the woods in the world of guitar work.
OK, now that's out of the way: my main focus is finishing. I love finishing. I love nitro. Gimmie those fumes... I have finished a decent amount of guitars from scratch, but I have not yet tackled any refins. As much as I love seeing folks on this forum widdle a Telecaster out of a tree stump and carve their name intricately out of exotic hardwoods and create an absolute masterpiece (and I bow down in reverence to those talented individuals), I just can't resist the allure of an antiquated, big-name guitar company producing the same old model in a perceived-to-be-rare solid color and slapping an egregious price tag on it. "Lookie here! This one is Frost Blue! Dah-yum, it sure looks purrrddyyy."
I told myself no more projects. It's time to finally get out of bad debt. Don't take on more than you can chew...then I went out and bought these: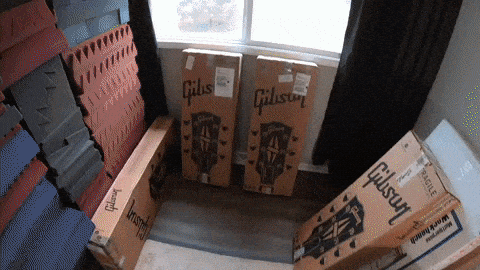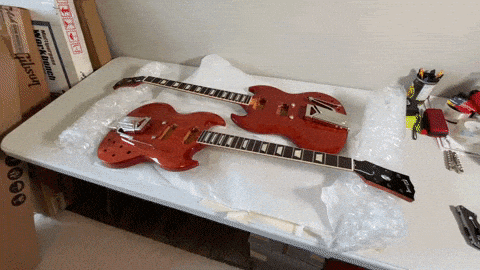 I purchased two "husks" from the Stratosphere, originally Gibson model# SG61W00VENH1, which is stripped of everything except that wonderful sideways Vibrola and the ABR bridge with posts. I have nick-named them after their Serial #s: the one on the left is "O-25", which has the better grain of the two and the Mahogany tone of the body and neck matches more closely, more suitable for a transparent refin; the one on the right is the "Triple-20", which has a slightly miss-matched body and neck and the grain isn't as fine (has a heart-shaped knot above the bridge pickup route) and would be more suitable for an opaque finish:
For years I've wanted a "custom color" Gibson SG. I have recently achieved that by purchasing a Kirk Douglas Signature SG in Inverness Green. As much as I love that guitar and love that finish, I never play it and can't afford to have it sit in its case. So I am selling that guitar and justifying my wanton lust for custom colors by telling myself that these SG's will be WAY cheaper than a Pelham Blue Murphy lab when I'm done with them.
One of my inspirations comes from a very close friend of the family, who was a working musician in a former life. In 1965, when he was a mere teenager, his parents gifted him a Gibson SG Standard in Pelham Blue along with a Fender Concert Reverb 4x10 amp! That was quite the rig for a High School kid!!! He said he played all the "sock-hop" and local school dances with that rig. (The guitar and amp are LONG GONE, so don't even ask...) There is even some silent 8mm film of him with the guitar. Excuse the poor screenshots, but take a look at the blue on that thing!!!:
Ever since I saw those blurry photos, I've really wanted to replicate vintage stlyed, Pelham Blue SG. The problem is even though I love Pelham Blue, I am an absolute nut when it comes to guitar and car colors and my imagination is running wild...is there a cool color that has NEVER been done before on an SG??? There are just too many colors to choose from!
Interestingly enough there is a seller on Reverb right now with this same model doing almost exactly what I intend on doing to these husks. Basically converting them into a more accurate '61 era Les Paul/SG with a locked-down Vibrola and in a cool custom color:
Please join me on this refin adventure (or possible miss-adventure). I may ask for some input and tips along the way. PLUS I'm always open to someone buying these husks from me before I desecrate them, to save me the hassle of dealing with these projects! (But then where would be the fun in this thread???)