Joined

Feb 6, 2015
Posts

454
Location
Hello Everyone,
Here is my latest covid project. I am building a 6G4A Brown Super with a 6V6 power section and the normal channel modified into a 6G3 Deluxe bright channel.
I arrived at this mashup due to parts I have from a salvaged Hammond S6 chord organ which is 6V6 push pull with a 4ohm OT. The PT is huge and will be able to support the tube complement and puts out a B+ of about 350v. I am reusing the chassis, transformers, tube sockets, some boards and tag strips, baffle board, and most of the wood from the organ.
Stripping it down is easy, but cleaning up the tube sockets and the boards is kind of time consuming. Reusing the wood for the cabinet is probably a waste of time. I should have just made a pine cab for it, we'll see how the refinishing goes.
This is my most ambitious build to date and I have had to learn DIYLC layout program and Inkskape. I have not decided on the front panel color scheme yet.
Here is what I started with.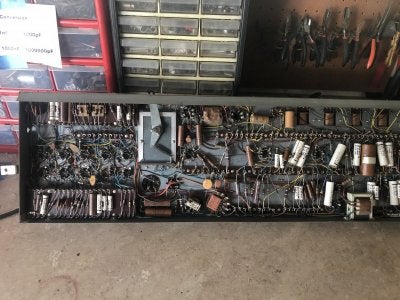 Stripped down and cut to size.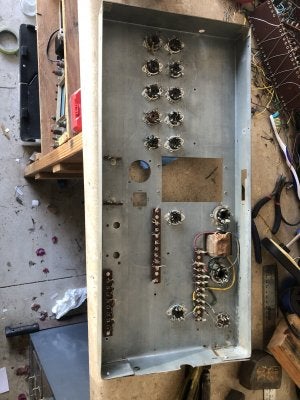 Preamp and first stage of the trem boards populated and turret board for the second stage of the trem phase inverter and power section. Front control panel attached. I'm going to use 5 of the tube sockets between the board for the preamp and trem circuit and use the other socket for the phase inverter. I'll remove the unused sockets after I figure out my wiring layout.
The power tubes are located on either side of the OT.
And assembled cabinet with chassis and front panel mockup.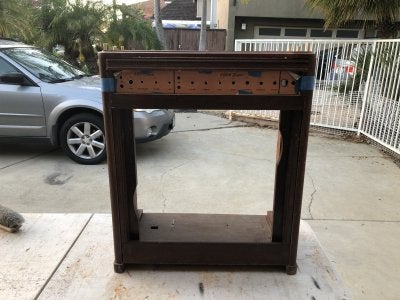 Take Care
John