Among all of the musical equipment my brother and I got when our dad died a couple years ago was this old Precision Bass. My dad loved to tell the story of how it got to be in the shape it currently is. Apparently, the bass player in the band he had in the late 60's or early 70's had it and it was originally sunburst. The bass player was kind of goofy (insert joke here) and decided one day to strip off the finish and repaint it. For some reason, he also scrubbed the decal on the headstock off! My dad remembered the guy scrubbing the old finish off in a laundry tub and then rattle canned the white on. A little while later my dad bought it off of him.
Back in the early 80's when I was trying to decide if I wanted to be the bass player in the band my brother and I had I borrowed it for a few weeks to try out. It played great and so it inspired me to buy a Squier Jazz Bass (it's what I could afford). I hadn't seen this bass since back then until a couple years ago when it came home with me. Here's a few pics of what I found: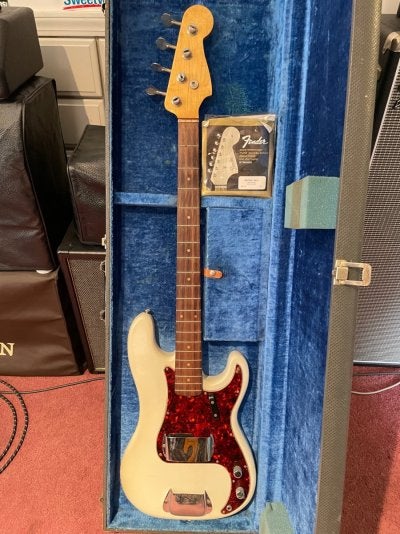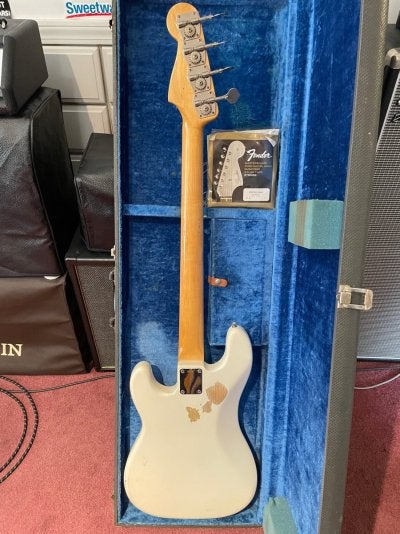 The neck is dated to what looks like NOV62, the serial number is accurate to that date, and it appears (except the finish) to be all original parts. The case is not an original Fender but an old decent one that my dad always had it in. There is a short somewhere I haven't tracked down yet so it just hums.
I probably will have an equipment purge years from now and I'm torn as to whether to just leave it as-is or get the body professionally refinished and have a correct era decal put on the headstock? I personally would be certain to advertise it as restored. It's not all original but it is all there. I'm just not certain my best approach.
Thoughts? Idea's? Anybody have a similar situation?