Joined

Jun 30, 2022
Posts

5
Age

34
Location
My 5e3 build has always been pretty humm-y. I started tying to diagnose the cause of the hum, moving wires with a chopstick and whatnot, checking grounds, etc. Nothing really made the annoying 60hz hum go away until I popped in a pair of near perfectly matched new production 6V6 tubes to replace the (what I did not know at the time) were pretty out-of-match RCA 6v6s.
I popped the Bias Rite in and checked the idle current for the RCA tubes and it was 17mA off from one tube to the other. One is glowing blue and much hotter to the touch than the other. I pop in the new Tung Sols and they are within .01 mA idle current of each other and the hum is GREATLY diminshed.
I would really like to use the RCA tubes and add a circuit to bias, balance (and un-balance) the power tubes.
Would this one work just fine (from Rob Robinette's site):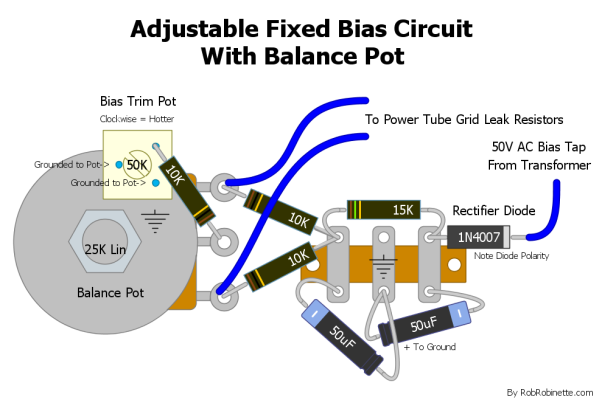 I don't want to lose the characteristic of fixed bias 5e3 sound but I want to be able to use these (or any other unmatched) power tubes. It calls for a 50V AC tap, but my PT doesnt have a 50V tap. The amp is built from a Trinity Kit (see the layout at the bottom). So that means I would need to maybe add a high voltage tap like this one (again from Rob's website):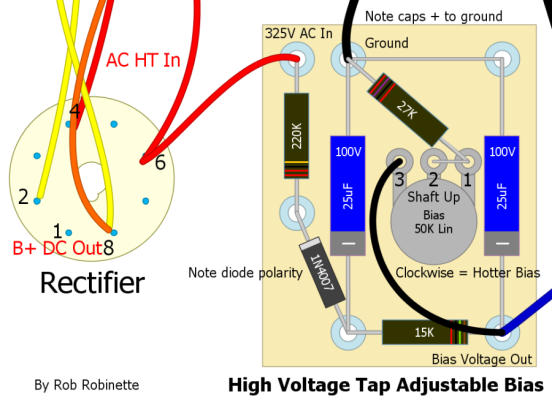 And COMBINE the adjustable fixed bias circuit with balance pot WITH the High voltage tap bias circuit....and now I am thoroughly confused. Could someone point me in the right direction or help me mash tehse circuits together? Thanks for reading!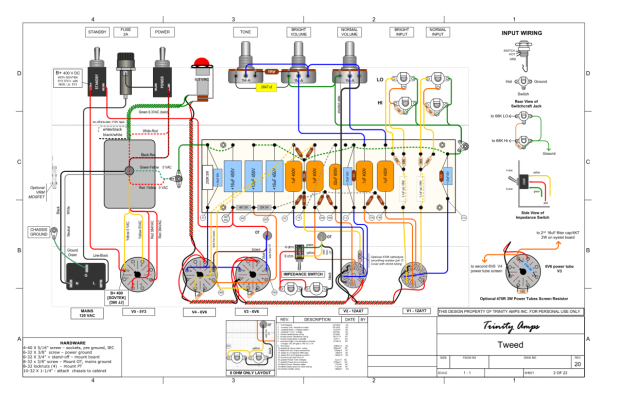 Last edited: