Poster Extraordinaire
Vendor Member
Joined

Sep 10, 2008
Posts

6,771
Age

56
Location
Last month I had the opportunity to do a rather complicated fret job, it was an original 1959 Les Paul Standard. The frets needed to be replaced and the owner wanted to keep the original neck bindings including the little bumps that "frame" the fret ends. I don't do repairs any more and if it wasn't a real burst I would have probably refused the job and said "no and good luck"...
but naturally, I couldn't pass the rare opportunity.
My old Les Paul templates came from a mix of measurements and drawings I took from 50's LP's over the years, but never had the chance to have a burst for a big long repair with the option to measure everything and do a full accurate set of templates. So I did.
I couldn't run it on the pin router to cut a direct body and routs template of course, so I did it all slowly by drawing and copying everything to paper and had it scanned and blueprinted. I now have a super accurate blueprint in a 2D format.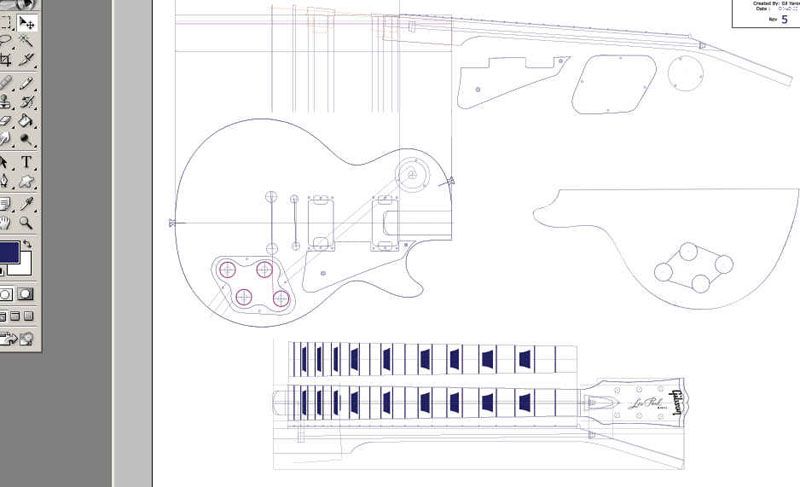 Compared to my old templates and measurements there were a few differences, most are minor but a few were important improvements.
For the first time I witnessed first hand the fret scale and placement issue. It doesn't compute to any known scale so I simply copied the fret locations as they were. The other "big" issues were the PU routs, channel size and location, headstock, neck angle, inlays shape etc....
Anyway, the important thing was that I managed to finish the blueprint and all the measurements before it was picked up by the owner.
You probably noticed that I was offline for a few weeks (-;
OK, regarding a build.... Since I now have those blueprints, I have to do a proto build to make sure it actually works (-;
Many of you requested a LP build documented in TDPRI but I was too busy with the pre-CBS line and didn't feel like changing the machinery and the shop for a Gibi build.... I just needed a little push and this burst was it.
The first thing I wanted to do before the actual woodworking was to investigate the PAF's and setup to build them here at my shop. I have 3 paf's left, one nickel set and a single gold pu. I decided to keep the set for comparison and use the gold for specs.
I'll get into more PAF details when I'll get to that stage in this build...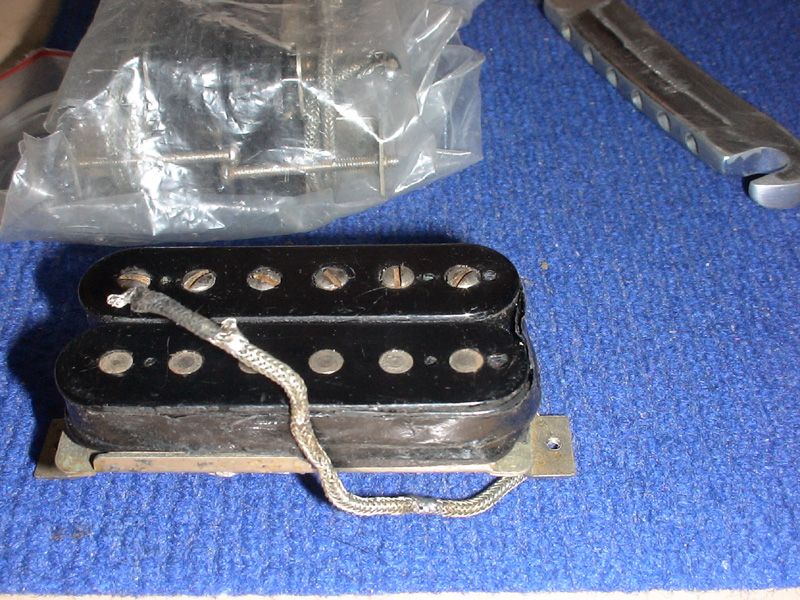 I also know this issue was discussed too many times in so many forums and threads... so I'm not going to use any terms such as "I nailed it", "I found the secret", "I can build a PAF to sound just like the originals".... etc... We all know this is nonsence... no such thing as a PAF tone... they all sound different, some great and some really bad. What I did manage to do was to get all the specs from this one gold PU that was a great sounding example (to my ears) before I destroyed it (-;
I found that the typical great warm "snarly" character of this PU didn't result from the hardware at all, it's in the magnet wire and the way it was wound.
I proved this to myself and I don't wish to argue or start WW3 over this... this is just my own opinion and I really proved it by changing all the parts, one by one, nothing changed the tone... even the magnet had a very minor effect. I'm now setup with the correct wire and the correct weird tension.
I don't have a winding machine with a traverse mechanism but I managed to rewind the real PAF to sound pretty much the same as it was before the "damage".
I find this important to mention because building a burst without a correct set of pu's has no point TMHO. It will be like a 64 Mustang with a new Toyota engine. I had the same issue with the pre-CBS pu's duplication that I posted here a few times... gotta have the right sounding pu's for those golden era instruments... it's simply a must.
Last edited: