Joined

Mar 7, 2018
Posts

43
Location
hey gang, hope you're all doing alright! couple weeks ago i found an amp i've been dreaming about for a long time. i had the money and a quick research about the shop selling it looked promising, so without many questions and blinded by gas i took the opportunity and purchased it. I didn't have a matching cab when it arrived so I just quickly plugged into my underpowered 2x12 to make sure everything's working. And man, it did work and sound beautiful and with all possible self discipline known to mankind I disconnected the amp before overloading the little cab.
It's been busy around here, so I didn't find the time to check bias and have a quick look under the hood... until today, and it seems the next firing up will be further out than imagined
The saying goes a picture says more than a thousand words, so without further ado I present my beaten, through hell and (hopefully soon) back 1975 Orange OR120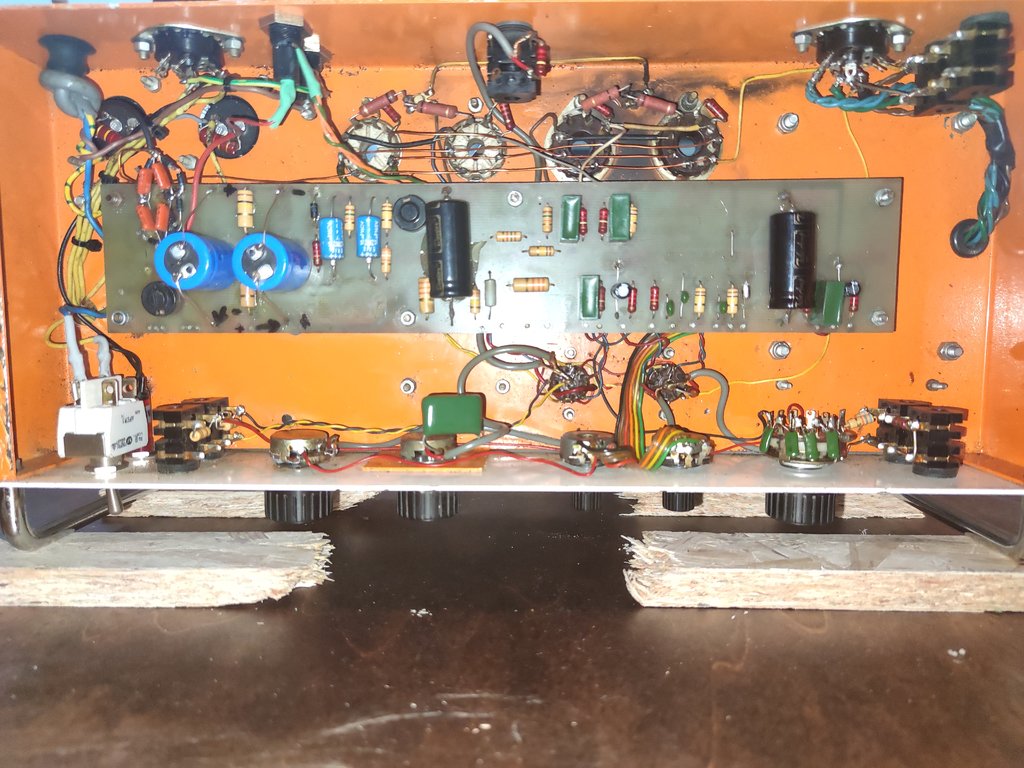 I'm now in the process of writing down a parts list of all things I'm gonna replace and figure out a plan of how to procede. still not sure if it wouldn't be best to rewire the entire amp and replace anything that looks suspicious. I would definitely go that way if I had a layout plan, so I might attempt to draw one - or I'll be going through the amp section by section and replace where necessary along the way. I'll be ordering pretty much all passive components there are (tube sockets, pots, switches, wires, fuses, capacitors, resistors...) as I don't mind stocking up on parts.
So far I already did some mod & maintenance work on amps and built 3 kits (that came with nice schematics & layout plans though...). I know about general safety when working on tube amps and have what I would call decent basic equipment.
I really hope you guys can help me out with this project as there are no reliable amp techs that I know of around, plus I like the challenge. I know I'm a bit in over my head at the moment, but I'm positive it'll make a mighty fine amp one day! any tips, guidance, gutshots of your OR120s, schematics, layouts... really anything, might help big time and would be much appreciated!!
thanks & have a good one