TEN (10)
5F1 Champ Kits
will go to the first
TEN
TDPRI members for just
$99
each until supplies last.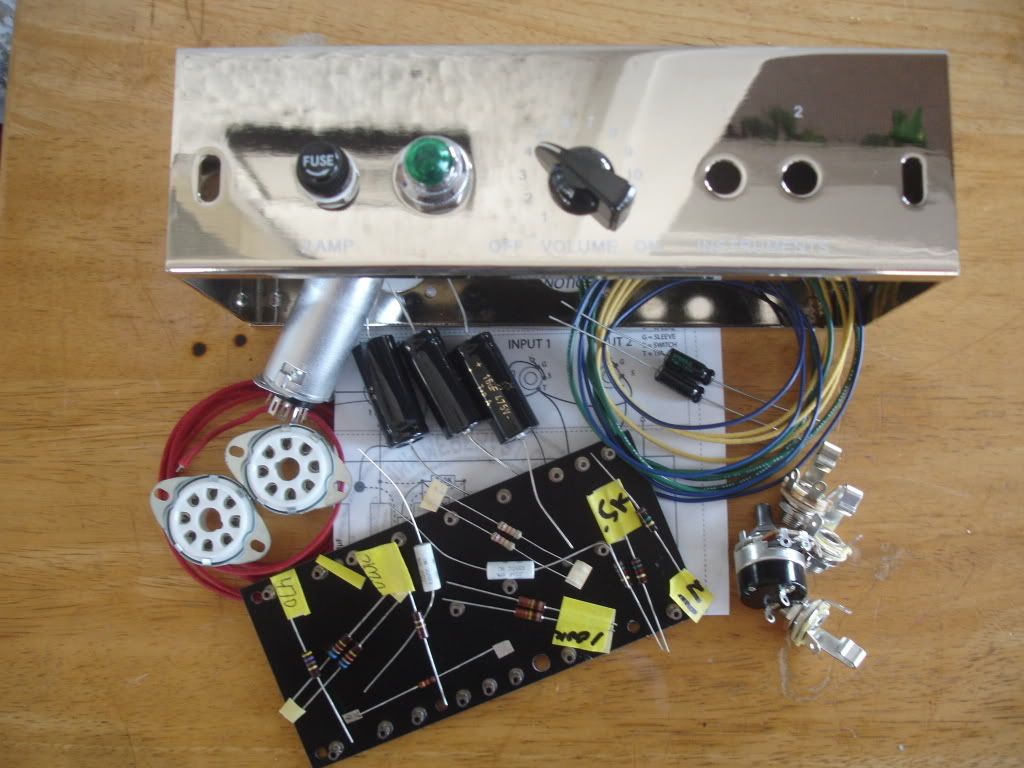 F&T Filter Caps Shown. Upgrade for just $10 more.
Build The Classic 5F1 Tweed Amp with this excellent Chassis Kit!
Features Quality heavy-gauge steel, welded, chrome-plated, white silk-screen lettered chassis; Electrical-Grade Fiberglass (GPO3) turret board. Boutique Builders' choice MIEC oversize Filter Capacitors, Genuine Mallory 150 Series Coupling Capacitors, Stackpole Carbon Comp Resistors, Sprague-Vishay Cathode Bypass Caps, Allied Military-Spec, Teflon-Coated High temp hook up wire, Custom Ground Bus and Terminal Lugs.
Includes Two - ceramic base, gold-plated pins Octal Tube Sockets, One - noval preamp socket with shield, Volume pot with on off switch, Black Chicken Head Knob, Stainless Steel Bolt Kit with K Lock Nuts, chassis grommets, Fuse Holder with Fuse, Neutrik tip shunt Jacks, male phone jack (speaker out jack), Faston Speaker Terminal Connectors, Speaker wire, Jewel Pilot Light, AC Power Cord with Strain Relief. The fine details are here in this state-of-the-art amplifier kit.
Detailed Layout Sheet provided. Limited email support along with links to internet build support sites provided upon request.
Except for transformers, This is a complete chassis kit. Transformers, Tubes, Cabinet and Speaker are required to build a completed working amplifier - NOT INCLUDED. Source them yourself or purchase them with this deal. Check out
www.BootHillamps.com
for reference and sound check on a 5F1 Champ - built from a kit exactly like this one.
Add (American-made 130v PT, Weihai Tech 8 ohm Heavy Duty OT)
transformers for $99 more.
Add my beautiful tweed cabinet for $185 more.
Add an 8 inch 8ohm Jensen MOD Speaker for $35 more.
Quantities are limited. First come, First Served.
Phone Orders Welcome. 386-760-3283 Major Credit Cards Accepted.
Order Monday thru Saturday 9AM to 5PM EST.
Or Paypal anytime.
Cheap CONUS Shipping. $11 shipping with or without transformers.
Add $10 more to ship chassis with cabinet only.
OR Add $10 more to ship chassis kit with both cabinet and speaker.
Maximum Shipping charge $21
Get 'em while they're hot.