No, they behave differently. The voltage divider arrangement just cuts down the signal from the first stage but does not effect the first stage,
The other circuit starts at no load on the first stage (full volume, full signal going to the next stage) and as you turn it down you reduce the load on the first stage from 1M down to zero. As this happens you resistance that is not going from the wiper to ground is going from the wiper to the input of the next stage. This resistance acts as a grid stopper for the second stage (not a bad thing) but as it rises this resistance combines with the capacitance in the tube and acts as a high cut.
http://www.ampbooks.com/home/amplifi.../grid-stopper/
When you are on '8' for example (0-10 not the regular 0-12 of the 5E3) you might have 70k in line with the next stage and the roll off at 10kHz is about 2dB. Now with 220k ohms on the second stage side you have a roll off of 6dB, and at 500k you have 12dB. So at lower volumes the amp may sound darker
On top of that as you reduce the load on the first stage it produces less gain (well you are turning it down for a reason right?) but it also distorts a bit more. Not necessarily a bad thing, that is if that is what you want. Also the rotation is not all that friendly if you want smooth control, You always hear people complain that all the control is at the bottom 1/4 of the volume control and that not much happens at the top.
I once set up two volume controls like the 5E3 and fed a signal in one of them. The following chart is the result. The two lines lowest lines that curves up are the two pot's resistance compared to rotation. Sort of a log relationship which is what you want for volume pots. The next two are the voltage out as they are rotated, the top one is with the second control on maximum, the next one is with the other pot at one value loading down the signal (can't remember the position though) The top trace, can't remember either.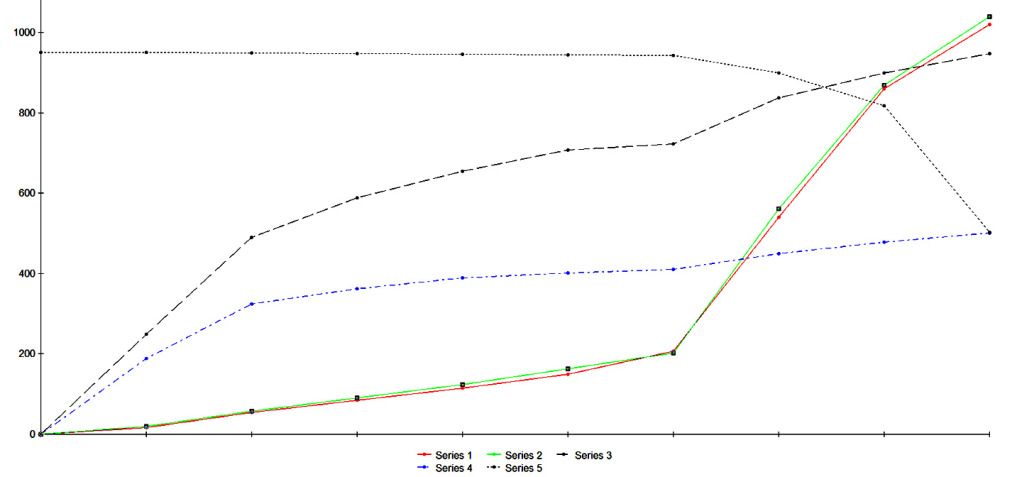 Now with the pots arranged as voltage dividers the voltage out of them would mirror the resistance plot. This would feel like your regular volume knob on most audio equipment.
Now why would we want to use the 5E3 arrangement if it has all these quirks? Well they have an effect on the sound that some like. Mind you this may not translate well to a single channel amp, but I will just leave it at that.