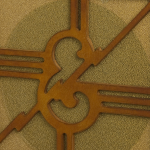 If you found yourself on a bandstand in 1939, chances are you'd be playing your jazz box through an Epiphone Electar Century Amp. There's just something about that Art Deco cabinet that says "swing, baby!" Designed by Nat Daniels (who later founded Danelectro), the Century was endorsed by Al Hendrickson of the Artie Shaw Band, Lloyd Gillson with Sammy Kaye and his Orchestra, Harold Aloma with the Tommy Dorsey Band, and George Van Eps. In 1939, The Century would have set you back $62.25.
You don't have to travel back in time to buy one in pristine condition. Epiphone has "reissued" the Century—sort of. Outside, the 2014 model looks much like the original: laminated maple cabinet, bent rims, vintage-style grill cloth and an all-metal handle.
Inside, things are a bit different:
18 watts.  Powered by two 6V6 and two 12AX7 tubes
Internal Bias Adjustment allows you to make fine adjustments to the output of the 6V6 tubes
12″ Electar speaker
Three inputs: bright, normal, dark
Master volume has a push/pull boost mode for higher gain
Master tone control
Extension speaker out
The "1939" Century Amplifier has a limited run of 3,000. MSRP is $665. An optional footswitch is sold separately.
When it comes to seriously iconic Telecasters (and Esquires), a few immediately spring to mind: George Harrison's rosewood. Roy Buchanan's Nancy. Keith Richard's Micawber. Jeff Beck's '54. Steve Cropper's '63. The list goes on an on, and it's fun debating which one is number one.  Somewhere near the top, though, is Bruce Springsteen's well-worn Fender Esquire.
On 1975's "Born to Run," Bruce shares the cover with Clarence Clemmons and the Esquire, proving that both were vital to his sound. 
Bruce purchased the '53 or '54 model in 1972, just after signing his contract with Columbia.  The serial number has an asterisk, indicating that the Esquire was a factory reject. Reject or not, Bruce learned how to make this guitar talk, and he's been associated with it ever since.
Apparently, The Los Angeles Times didn't get the message. In 2004, Times staff writer Randy Lewis asked Mr. Springsteen if he'd like to share some thoughts about the 50th anniversary of the Stratocaster. And here is Bruce's response in no uncertain terms:


P.S. Don't write an article about Bruce's love for Schwinn Bicycles. He's probably a Huffy man.
Much of the time, the Winter NAMM show provides pretty much what you expect-a lot of cool guitars, rockstars and wannabe rockstars and the combined din of 300 Guitar Centers on a Saturday morning. But then, sometimes you run into something that can only be described as "odd." Like Olaf Diegel, whom we ran into downstairs on the first day of NAMM 2014. Olaf loves music from the '50s and '60s, but when it comes to guitars, he's all modern—no surprise for a guy who has worked in and taught product design for decades. His brand is called ODD Guitars; an appropriate name if you believe guitars should only be constructed from wood.
Diegel's T-styles are made from Duraform PA, a super-strong form of nylon also used in car dashboards and bumpers. And, what's "odd" is he makes them on a 3D-printer. That's right, he prints out guitars from a 3D-printer. And while home 3D printers can now be had for a couple grand, Diegel uses an $250,000 industrial model. (Relax, he doesn't own it.) It takes 11 hours to print one body.
The body is not 100% nylon; a wooden inner core of mahogany or maple joins the guitar bridge to the neck. ODD Guitars generally come with maple necks (Warmoth), but that, like pickups, is at the customer's discretion.
The Americana model features New York landmarks inside the guitar, like the Chrysler Building, Guggenheim, Statue of Liberty, etc.
Most interesting at this year's NAMM show was The Steampunk T-Style. Not only is it very interesting with everything going on below the surface, but it also has moving gears and pistons:
The gears are driven by a very small motor and a 9-volt battery. Plan on a week or two of battery life with the gears running continuously. 

Diegel has sold several Steampunk models to people who don't even play guitar—they just want them as "eye candy for their man caves."
He says the great thing about 3D printing is that it allows lots of customization "without adding much cost."  "Much cost" is debatable: The ODD Steampunk sells for $4000.
Find out more and see his other "odd" guitars at: http://www.odd.org.nz/ 
Michael Kelly calls its philosophy "boutique within reach," and that's certainly the case with this new line of 1950s T-Style guitars. Designed in America and made in Korea, these T-styled axes look like a real bang for your buck.
There are five models, each featuring an "exotic wood top and contoured arm cut," plus coil taps for "sonic range and versatility." Look for these and other Michael Kelly guitars at, as they say, dealers near you soon.
Here's the whole line-up of new T-Style guitars from Michael Kelly Guitars
The Michael Kelly "1952" T-Style guitar
Basswood body with flamed maple top
MK PAF-Plus humbucker in the bridge and neck
Coil Tap to split humbuckers
Available finishes are deep cherry red and natural gloss
The Michael Kelly "1952" has a MSRP of $449 ($299 street).
---
The Michael Kelly "1953" T-Style guitar
Alder body with flamed maple top
MK Stacked Single Coil in the bridge, MK T-Style Single Coil in the neck
The caramel burst and black vapor finishes come with a rosewood fretboard while the blue jean wash finish comes with a maple fretboard
The Michael Kelly "1953" T-Style guitar has an MSRP of $580 ($399 street)
---
The Michael Kelly "1954" T-Style guitar
Alder body with quilted maple top
Rockfield SWC humbucker in the bridge, and MK T-style single coil in the neck.
Coil Tap to split humbucker
Available in Satin Black Wash
The Michael Kelly "1954" T-Style guitar has a MSRP for $580 ($399 street).
---
The Michael Kelly "1955" T-Style guitar 
Swamp ash body with quilted maple top
Rockfield SWC humbucker in the bridge and an MK Mini humbucker in the neck
Coil Tap to split humbuckers
Available in Amber Trans, Caramel Burst, and Black Wash
The Michael Kelly "1955" T-Style guitar has a MSRP of $729 ($599 street).
---
The Michael Kelly "1957" is the flagship model in the line-up.
Swamp ash body with quilted maple top
Real flamed maple body binding
Seymour Duncan Little '59 in the bridge and a Rockfield humbucker in the neck position
Coil Tap to split humbuckers
Maple neck
Available in amber translucent and black wash
The Michael Kelly "1957" T-Style guitar has a MSRP of $875 ($699 street).
For more info on the entire line of guitars visit http://www.michaelkellyguitars.com