Seems kind of obvious, Fender making stompboxes. Doesn't it? Yet, where have they been? Off and on over the past 40 years Fender has sold effects pedals. But it's been quite a while now since the last one was available (remember the Starcaster Distortion?). Well, all that is about to change. Now, just in time for Winter NAMM, Fender is announcing Competition series pedals, a new line of effects pedals designed and built — as the PR dept states — "to provide inspirational tones in a reliable package at an astounding value."
The Fender Distortion pedal drives tube or solid-state amps into thick distortion and singing sustain, evoking the edgy hard-rock tones of the '70s and '80s. Great with many different amplifiers, it's responsive enough that a guitar's volume control can be adjusted to the exact amount of distortion desired, from aggressive crunch to full-on saturation. It can be used to create a distorted tone or as a boost for higher-gain rhythm and solo tones. MSRP $89.99
The Fender Drive pedal creates a warm overdrive reminiscent of classic '60s and '70s rock and blues tones. It can be used to push tube or solid-state amps, creating harmonically rich crunch and sustain. With an old-school design that matches its vintage warmth, it makes an ideal choice for the musician looking for rich, harmonic overdriven tone. MSRP $89.99
The Fender Chorus pedal will remind guitarists just how cool and indispensable the lushly spatial effect can be. Add sparkle to clean open chords, to animate strummed passages and to thicken distorted power chords. Get just the right amount of chorus desired, cleanly and quietly. Operates in mono or with stereo outputs for vibrantly huge sound while creating wide, sweeping modulation effects or shimmering 12-string sounds. MSRP $99.99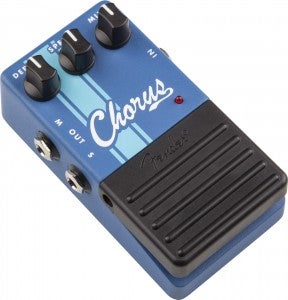 The Fender Delay pedal creates richly resonating echo effects from short slap-back rockabilly sounds to longer repeating echo perfect for huge, soaring guitar solos (it's great for other electronic instruments too, such as keyboards). Dedicated delay time, feedback and level controls give you complete command of your sound's spatial characteristics. Operates in mono or with stereo outputs for two-amplifier setups. MSRP $99.99.
It won't be long now, until all the various companies start releasing their new models for the 2013 Winter NAMM Show. This years gigantic gear galaxy will begin Thursday, January 24th through Sunday, January 27th. We'll be there again this year from the opening cocktail receptions until the "too tired to see any more" last day. So, watch this space and our Facebook/Twitter pages for more goodies from the 2013 Winter NAMM Show. And, as always we'll try to get press releases detailed here as soon as possible when they arrive.
Without a lot of fanfare, or warning for that matter, Fender has released the Limited Edition Telecaster Super Deluxe. Mind you, that's not just "Deluxe" that's "Super Deluxe." But seriously, these are some very eye catching Thinlines they've released. Available in Black and Olympic White, this unusual Tele's appointments include a semi-hollow basswood body with double binding and a single f hole, matching painted headstock, 7.25″-radius bound rosewood fingerboard with pearloid block inlays, and a scorching pair of Fideli'Tron™ humbucking pickups.
Other premium features include a modern C-shaped maple neck with bone nut, 21 wide vintage-style frets, three-way blade switching with "top hat" switch tip, single-ply pickguard (gold on Olympic White model; silver on Black model), gold (Olympic White model) and chrome (Black model) hardware, vintage-style Stratocaster® hard-tail bridge, three-bolt "F"-stamped neck plate with Mictro-Tilt™ adjustment.
Fender Musical Instruments Corporation (FMIC) celebrated the 25th anniversary of its factory in Ensenada, Baja California, Mexico, on Friday, July 20. Opened in 1987 and initially used for nothing more than to package guitar strings the Ensenada factory began to build guitars in 1989. The plant was destroyed in February, 1994 when, during a routine maintenance procedure, a spark in a spray booth vent caught fire and reduced the 22,000-square-foot factory to ashes in less than one hour. The plant was rebuilt from the ground up nearly 4-months later.
In the 1990′s production was ramped up and output from the Ensenada plant replaced many of the guitars made by and imported into the US from Fender Japan. Fender's plant in Ensenada is wholly owned by FMIC were Fender Japan has always been a partnership with Fender and other companies. Today the Ensenada factory makes a great many of Fender's lower cost guitars. Fender also builds guitars and amplifiers in China, Indonesia, India, and Korea.
"We are very proud to have reached such a significant milestone," said Sergio Villanueva, senior vice president, global manufacturing, for Fender Musical Instruments Corporation. "The level of craftsmanship produced in this factory is a testament to its success."
More than 1000 guests, including local dignitaries, company executives and factory employees, commemorated the facility's 25-year anniversary with spectacular fireworks displays, live mariachi music, performances by Escuelita Fender, Grupo Fandango, and the popular Norteño band Intocable.